Mobile health clinics
In 2013 we announced the Mobile Health Clinics initiative and pledged to reach more than 2 million young people in Algeria, Indonesia, Myanmar and Tunisia by 2016.
The Ooredoo Mobile Health Clinics travel to rural and remote communities to provide free medical treatment, share nutritional advice and distribute vitamins.
They play an educational role, teaching parents and children about the importance of a healthy lifestyle and of disease prevention. These are lessons which will stay with them for the rest of their lives.
---
Providing lifesaving healthcare services in Algeria, Indonesia, Myanmar and soon, Tunisia.
Since the Ooredoo Mobile Health Clinics initiative's launch in 2013, the project has grown and expanded its operations. Now serving four countries, every day these clinics are ensuring that young people have the healthiest start possible and so enable them to pursue their dreams.
---
Indonesia: The first fleet of 16 Ooredoo Mobile Health Clinics have provided free healthcare services for more than 770,000 people, and have been particularly effective following natural disasters and emergencies.
The clinics originated in Indonesia. They have received three Millennium Development Goal Awards from the UN for their work to improve maternal health and reduce child mortality.
Ooredoo Mobile Health Clinics currently provide medicine, vaccinations, and education on infectious diseases for children and their families.
Mobile Clinic Launch at Candi Boko Temple
---
Myanmar: Ooredoo Myanmar also extended its Mobile Health Clinic programme in collaboration with Pact Myanmar in July 2016, with a new investment of more than US$ 600,000 that will extend the programme for another 12 months.
Since its launch in 2014, Ooredoo Myanmar has invested more than US$ 1 million and provided care to more than 27,000 patients through the Mobile Health Clinics in Myanmar.
Amongst other achievements, the Ooredoo Mobile Health Clinics have provided ante-natal care and postnatal care to 203 mothers, and treated 267 cases of children under-five with common childhood illnesses such as Acute Respiratory Illnesses (ARI), Diarrhoea, Tuberculosis (TB), and others.
---
Algeria: In partnership with the Algerian Red Crescent we launched three Ooredoo Mobile Health Clinics in Algeria that support the Algerian provinces of Tamanrasset, Illizi and Adrar, serving an estimated 250,000 people. By providing lifesaving healthcare services in remote areas, the clinics, save sick people in the south of Algeria from having to travel hours to reach hospitals in town centres. They also offer healthcare education in these areas, providing information on primary health issues, with a focus on children and young people.
---
Tunisia: Plans are in place to launch Ooredoo Mobile Health Clinics in Tunisia soon, targeting communities in Kebili, Gabes, Sidi Bouzid, Mahdia, Kef, and Zaghouan.
The programme will support efforts to ensure the detection and monitoring of chronic diseases and metabolic disorders in the country, and provide health tips for underserved communities in these areas.
Our Ooredoo Mobile Health Clinics are also mobilised during natural disasters such as the severe floods which affect Jakarta in January each year or to provide disaster relief following earthquakes or volcanic eruptions. They assist by providing medical assistance and emergency aid for those affected as well as arranging distribution for food and other essential items.

Responding to crises
Access to mobile network services can be a lifeline for those affected by crisis, as well as transforming the humanitarian response.
Humanitarian Connectivity Charter
Ooredoo actively supports the GSMA's Humanitarian Connectivity Charter, launched at the GSMA Mobile World Congress in 2015. This charter demonstrates the commitment of the mobile industry to support customers and first responders before and during humanitarian emergencies. The charter is supported by the United Nations Office for the Co-ordination of Humanitarian Affairs, UN Emergency Relecommunications Cluster and the International Federation of the Red Cross and Red Crescent Societies.
Through the charter, mobile network operators commit to a common set of principles and work towards the adoption of initiatives focused on humanitarian connectivity. This ultimately creates a more co-ordinated and predictable response to disasters.
---
Smile for Peace Initiative in Iraq
The Smile for Peace program aims to keep communication alive within Iraq's conflict zones.  Ooredoo's AsiaCell provides affected people with the means to connect with their families and receive information from the outside world. These services include:
- A Call Centre for IDPs/refugees run in cooperation with Iraqi Non-Governmental Organisation Civil Development Organisation (CDO)
- A toll free number and short code which works to reconnect separated families operated in partnership with Refugees United and Ericsson.
- Distribution of sim cards preloaded with a free SMS notification service which alerts refugees and IDPs of vital information
- Provision of sim cards and devices equipped with free minutes
- Special short code developed for donations
---
Support for Nepal
In Nepal in May 2015, Ooredoo connected citizens in the aftermath of a devastating earthquake which struck the country.  Using VSAT technology our group member Indosat was able to establish an emergency internet connection, helping connect survivors and emergency aid services alike.  Access to mobile communications played a key part in Nepal's response to the crisis and with the help of mobile technology, families were reconnected with their loved ones and aid efforts were able to be directed to those most in need. 
---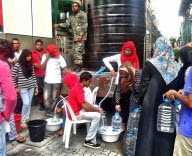 Support during Maldives Water Crisis
During a water crisis to affect the Maldives in 2014 Ooredoo Maldives created a Water Crisis Helpline to provide information about the crisis to concerned or affected citizens. The team also deployed M2M technology to locate water trucks distributing bottled water across the island, combining this with communications technology to share the location with citizens.  This helped people to access water while also mitigating the risk of rising tensions and public unrest in response to a sporadic and unpredictable delivery service.
---
Support for Gaza
In an effort to help people connect with friends and family during the humanitarian crisis in Gaza in 2014, Ooredoo Qatar offered all mobile calls to Palestine free of charge for a limited period.  The same campaign enabled people to make donations by SMS from their mobile phone balance to support relief work in the country.

Disaster preparedness
Building partnerships that help enable a quicker, more effective response in emergencies.
Following the first-ever Middle East Summit on Mobile Technology and Crisis Response that brought together more than 30 leaders in the aid and telecoms sectors, Ooredoo is working with the GSMA and Souktel Mobile Solutions to develop new partnerships and enhance current strategies to manage disaster preparedness. 
It is estimated that global conflict has forced 33.3 million people to become internally displaced people (IDPs) and a further 17 people million people to become refugees.   We believe that a rapid response and an ability to react to the situation as it unfolds is crucial to delivering an effective service and meaningful support.  Minimising down-time is critical.  
With this in mind, Ooredoo is in the process of building partnerships that will enable quicker, more effective service delivery in emergencies.
Related news    Special report "Connected Citizens - Managing Crisis"
Humanitarian responses
We care for the communities that we operate in and strongly feel that we have a responsibility to support in any way possible when they are affected by crisis.
In addition to efforts to connect IDPs within Iraq, Asiacell's 'Smile for Peace' initiative also has a humanitarian aspect which recently included the establishment of two water treatment plants to help ensure the availability of drinking water as well as providing milk, nappies and other family essentials to two of Anbar's IDP family camps in Baghdad.
Previously, Asiacell has carried out many other humanitarian initiatives for IDPs from different provinces, including providing humanitarian needs for IDPs living in different camps in Kurdistan.
---
"Ghadi" Project for Syrian Refugees
In 2014, Ooredoo Kuwait supported the "Ghadi" Project in partnership with the NEST aid group and Kuwait Red Crescent Society (KRCS). Through the project, young volunteers from Kuwait travelled to Lebanon to educate Syrian refugee children living there having fled the conflict in their home country. Funds raised by Wataniya made it possible to continue the education of 1,233 Syrian refugee children based in camps. 
---
Severe Flooding in Myanmar
After seeing first-hand the scale of disaster and extent of community needs following severe seasonal flooding across Myanmar, Ooredoo recently offered support to those affected in the country's 11 national disaster zones.  As part of this Ooredoo Myanmar launched a SMS crisis-code, "Help Myanmar," which invites customers to donate their credit balance, or part there-of, to flood victims.  Ooredoo's support includes direct distribution of food, water, medicine, blankets and assistance with the provision of temporary shelter to affected communities.  Ooredoo's support will also contribute to reconstruction efforts after flood waters recede.