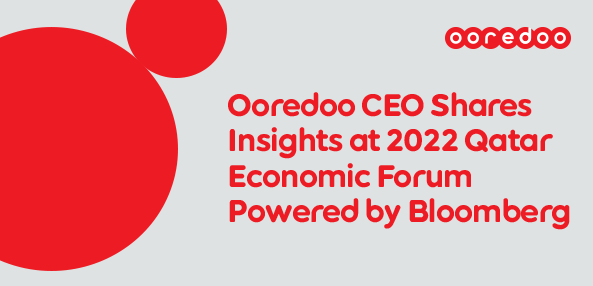 Sheikh Mohammed Bin Abdulla Al Thani Participates in Panel Discussion at Major Regional Economic Discussion Platform
Ooredoo, Qatar's leading provider of ICT, has announced it participated in the recent 2022 Qatar Economic Forum Powered by Bloomberg, with its CEO – Sheikh Mohammed Bin Abdulla Al Thani – taking part in a high-level roundtable entitled Tech Cities: Infrastructure for a Connected World.
The second annual Qatar Economic Forum Powered by Bloomberg brought together global heads of state and business leaders to share knowledge, expertise and insights into the challenges facing today's economies. This year's Forum focused on the need for governments and businesses to come together to ensure continuity of the post-pandemic global economic recovery, as major obstacles present themselves in the current political climate.
Speaking of the event, Sheikh Mohammed said: "I was delighted to represent Ooredoo and my country at such a respected regional event. We, as a leading telecommunications operator across our global footprint, have a responsibility to contribute to the industry in which we operate, and a responsibility to share our experiences for the benefit of human development and of our economy, and we were proud to join our peers and our economic leaders at this key forum."
Sheikh Mohammed took part in the roundtable alongside senior regional representatives of global tech giants including Google and Microsoft, as well as other telecommunications operators. Participants shared their thoughts on a number of pressing issues facing the telecommunications industry and the wider world of technology and innovation.
Topics discussed included the market and social factors driving the acceleration of digital infrastructure development; the role of 5G in the region and further afield; the partnerships and investments needed to create the smart cities of tomorrow; the opportunities that lie in the global fibre roll-out; the contribution of digital infrastructure to global sustainability targets; and the current trends and opportunities in building smart cities.
Sheikh Mohammed outlined Ooredoo's contribution as an ICT service provider to the development of smart cities, in light of such cities' reliance on data, and highlighted its flexible, agile approach to collaboration in order to drive progress.
Ooredoo's CEO detailed the company's key role in the development of TASMU Platform – the central foundation of the Ministry of Communications and Information Technology's flagship TASMU Project - as an example of its commitment to smart city development. "In order to create smart cities there must be partnerships between the public and private sectors, between consortiums and governments, and there must be the right infrastructure in place to support the development of such cities so our communities can be better served, and so we can improve quality of life from a social, economic and health perspective," he explained.
Sheikh Mohammed also touched on the expansion of 5G in the Middle East region and further afield - being well-placed to do so, with Qatar being the first country in the world to launch 5G via Ooredoo - and reiterated the importance of ongoing fibre roll-out as a foundation for network enhancements across the world.
Sheikh Mohammed concluded: "As an ICT leader with a strategic commitment to supporting our country in its progress towards achievement of Qatar National Vision 2030, we have a vested interest in developments in our industry and indeed our economy, and it was imperative that we took our place at this invaluable event. We extend our gratitude to all involved in making the Forum such a success, and look forward to many more such collaborative efforts in the future." 
-END-
About Ooredoo
Ooredoo is Qatar's leading communications company, delivering mobile, fixed, broadband internet and corporate managed services tailored to the needs of consumers and businesses. As a community-focused company, Ooredoo is guided by its vision of enriching people's lives and its belief that it can stimulate human growth by leveraging communications to help people achieve their full potential.
Twitter: @OoredooQatar
Facebook: https://www.facebook.com/ooredooqatar/
LinkedIn: https://www.linkedin.com/company/ooredooQatar
YouTube: https://www.youtube.com/user/OoredooQatar
Website: www.ooredoo.qa