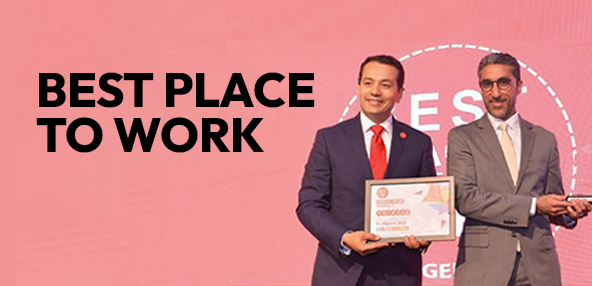 Company Recognised for Outstanding HR Policy, Work Environment and Conditions
Ooredoo Algeria has announced it has been certified as a "Best Place to Work' for 2022.
The "Best Places to Work" programme is an initiative founded by the "Best Companies – USA Institute". Active in more than 100 countries around the world, the programme gives a voice to employees and focuses on their perceptions of a company's governance and management style; HR policy practices; compensation and benefits; professional relations between colleagues; work climate; image and belonging; quality and excellence; and finally the societal factor.
The certification, which covers the period from May 2022 to May 2023, was granted to Ooredoo Algeria in recognition of the quality of its human resources policy, which allowed it to stand out among the various national and multinational companies participating in this programme, which highlights companies operating in Algeria that offer the best working environment and conditions.
An official certification ceremony was held, during which Mr. Bassam Yousef Al Ibrahim, CEO of Ooredoo Algeria, and Ms. Nessrine Krim, Chief Human Resources Officer, received the accolade of "Best Employer of the Year 2022-2023" from Mr. Karim Kaitouni, Regional Director of the "Best Places To Work" Programme.
Opening the ceremony, Mr. Bassam Yousef Al Ibrahim, expressed his sincere thanks to the employees of Ooredoo Algeria in recognition of the efforts made throughout the year and their unfailing commitment to the company.
During this event, the "Best Companies - USA Institute" explained to Ooredoo Algeria's employees the different stages of the 'Best Places to Work" study, as well as the method and criteria adopted by the organisation to determine the granting of certification to companies registered with the programme.
The certification event concluded with a dinner for Ooredoo Algeria employees, hosted by the company. 
About Ooredoo Algeria:
Operational in Algeria since august 2004, Ooredoo Algeria is the Algerian subsidiary of Ooredoo Telecommunications Group and provides 3G and 4G mobile services for businesses and individuals. Until December 31st 2021, Ooredoo Algeria recorded a turnover of DZD 84,4 billion and had more than 12,8 million subscribers.