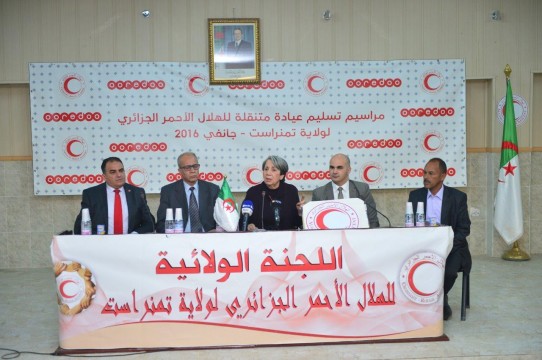 Ooredoo and the Algerian Red Crescent have officially launched a mobile clinic for the people of Tamanrasset Province in southern Algeria, in the Ahaggar Mountains.
The launch was held in the presence of officials from Tamanrasset, the Algerian Red Crescent and senior Ooredoo executives.
Managed by The Algerian Red Crescent, the Mobile Health Clinic will provide healthcare services to people across the province, with a particular focus on people in remote areas, to save them from travelling hours to reach hospitals in town centres. It will also offer healthcare education across the province for children and young people, providing information on primary health issues.
Since its launch in partnership with the Leo Messi Foundation in 2013, Ooredoo's Mobile Health Clinic initiative has helped communities in Indonesia, Myanmar, Algeria, and Tunisia.
In Algeria, Ooredoo launched its first mobile health clinics in July 2015.
Ooredoo has worked with the Algerian Red Crescent since 2008. The two organisations signed a framework agreement in 2014 to support social and humanitarian initiatives across Algeria, with Ooredoo as an official partner of the Algerian Red Crescent.
- END-
About Ooredoo
Ooredoo is a leading international communications company delivering mobile, fixed, broadband internet and corporate managed services tailored to the needs of consumers and businesses across markets in the Middle East, North Africa and Southeast Asia. As a community-focused company, Ooredoo is guided by its vision of enriching people's lives and its belief that it can stimulate human growth by leveraging communications to help people achieve their full potential. Ooredoo has a presence in markets such as Qatar, Kuwait, Oman, Algeria, Tunisia, Iraq, Palestine, the Maldives, Myanmar and Indonesia. The company was named "Most Innovative Company of the Year – MEA Region" at the 2015 International Business Awards.
The company reported revenues of US$ 9.1 billion in 2014 and had a consolidated global customer base of 114.9 million customers as of 30 September 2015. Ooredoo's shares are listed on the Qatar Stock Exchange and the Abu Dhabi Securities Exchange.
Twitter: @Ooredoo
Facebook: facebook.com/ooredoogroup
LinkedIn: http://www.linkedin.com/company/ooredoo
YouTube: www.youtube.com/ooredoogroup