Who we are
Operating in 10 countries, with a growing customer base of over 121 million customers, Ooredoo Group is one of the world's fastest growing telecommunications groups.
Ooredoo Business Services is our wholesale arm. With it, we provide a world-class network for voice, capacity, data, messaging and roaming. We also offer one of the largest internet peering networks in the Middle East and interconnection with more than 100 operators including some of the biggest in the world.
In recognition of our continued reach for excellence, Ooredoo was awarded:
Best Middle Eastern Wholesale Carrier for a second time at Global Carrier Awards 2015.
Best Vendor Partnership' and 'Best Asian Project' at Global Carrier Awards 2014.
Best Middle Eastern Wholesale Carrier' at the Telecoms World Awards in 2012.
Where we are today?
We are strongly established in significant markets across the Middle East and Asia, including Qatar, Kuwait, Oman, Algeria, Tunisia, Iraq, Palestine, the Maldives, Myanmar and Indonesia.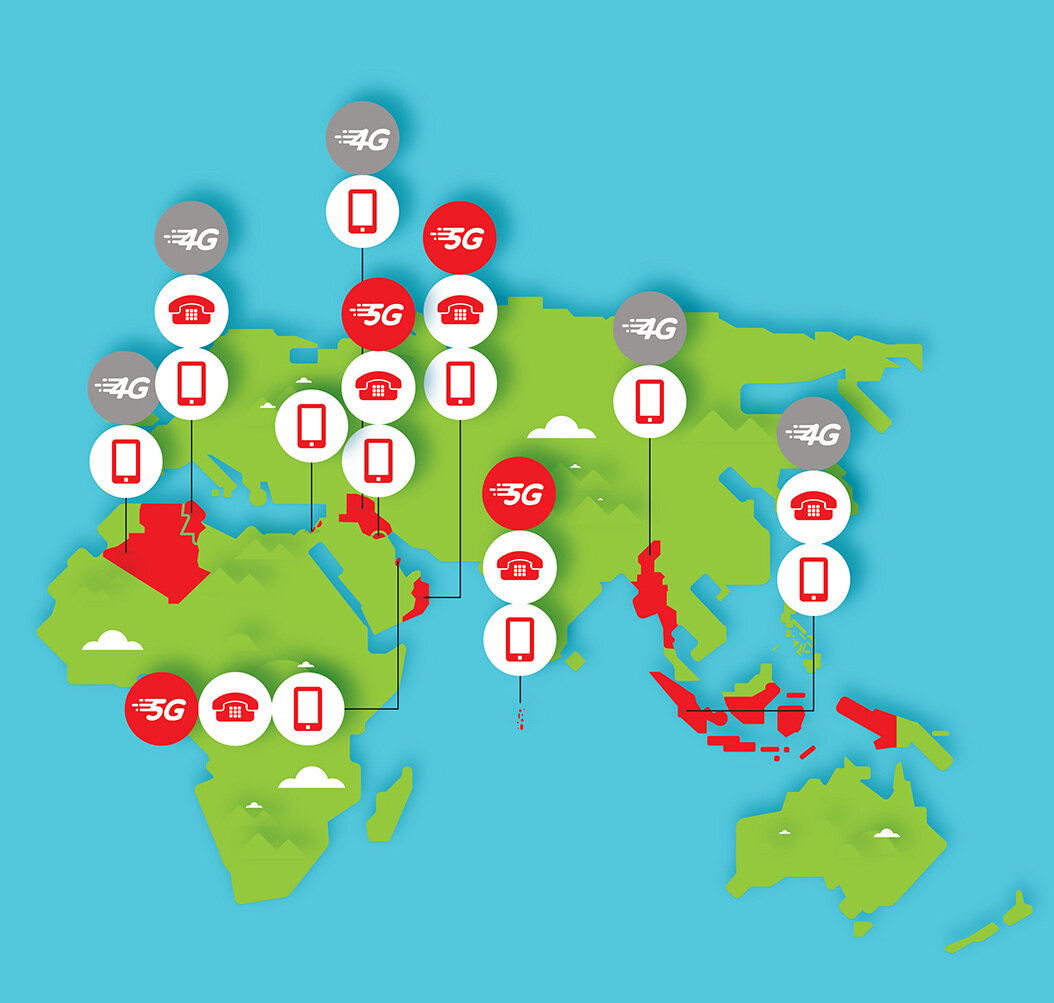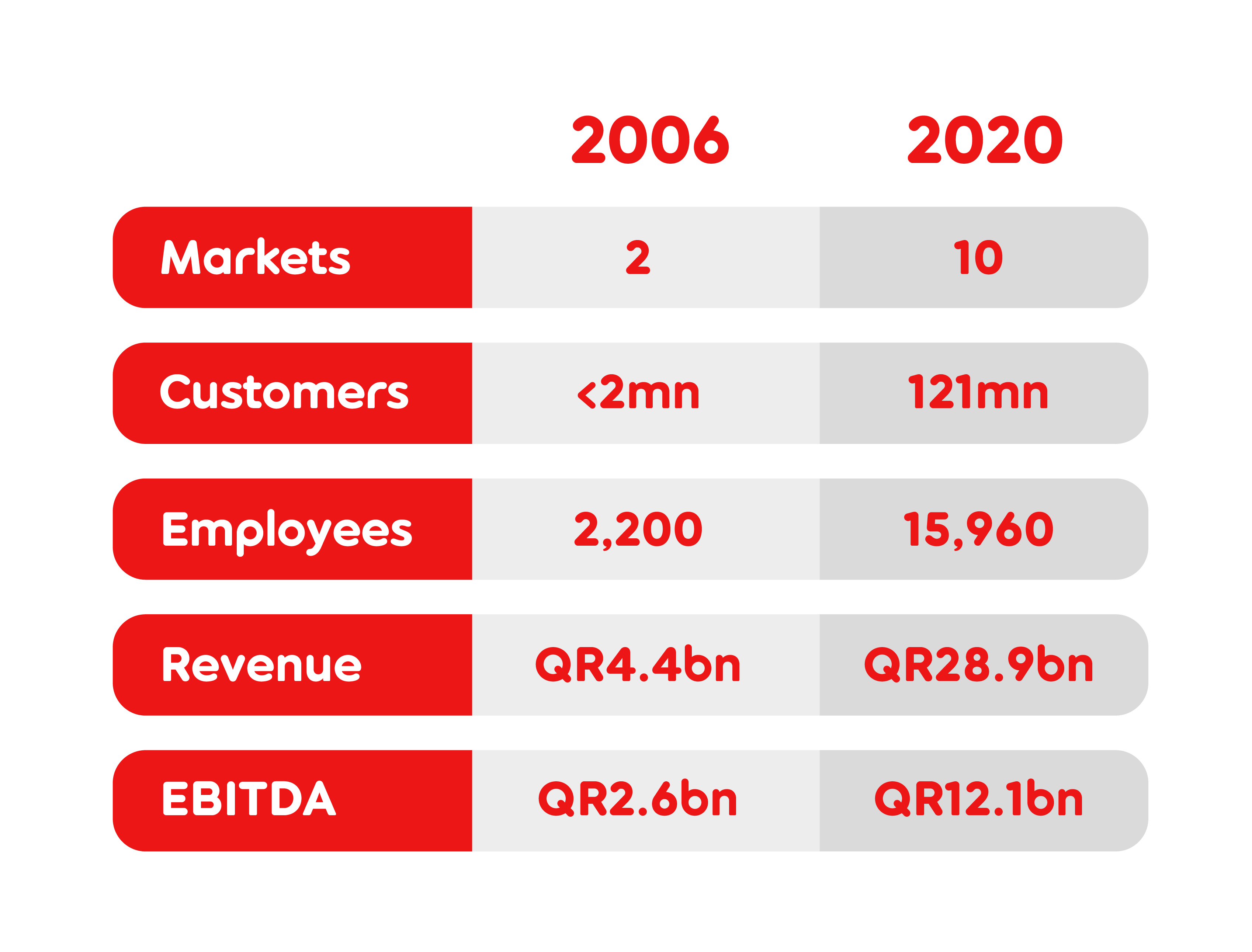 What we do
Roaming

With more than 700 roaming partners worldwide, Ooredoo Business Services provides a world class roaming experience to our customers and to serve inbound roamers visiting its markets through an extensive network coverage.

We ensure an optimum roaming services through strategic alliances with the majority of roaming partners and by connecting to world class service providers. We connect our roaming partners through the most efficient and reliable routes.

LTE roaming services is being offered in Qatar, Oman, Kuwait. Indonesia, Tunisia, Myanmar and Maldives is in the process of launching shortly.

Ooredoo Business Services roaming solutions include:

Building Strategic Roaming alliances between major telecom groups and Ooredoo Group
IPX synergies for Ooredoo operations
A2P SMS services implementation for the Group operations
P2P SMS profitability enhancement for the Group
Vendor partnership management related to the roaming services to support the cost effective solutions to implement for the Group

Voice

We provide a high quality voice product through interconnections with over 130 mobile and fixed operators worldwide, who value the same high standards of service and connectivity as we do.

We meet our customer needs and with a tailored approach as required. Our presence on both retail and wholesale markets worldwide means we can deliver international wholesale solutions that are fully adapted to local retail operators.

The benefits of becoming an Ooredoo Business Services Partner

A single point of contact through a multinational and multicultural team with diverse geographical experience.
Premium Voice offerings to enhance your Customer solutions.
Extend your reach with Direct connections to Fixed and Mobile operators globally
Termination capability to all Ooredoo mobile operators and 119 million subscribers

Ooredoo strategic partnerships – International Voice & Roaming

Quality Termination Worldwide

Data & Capacity

We've developed and manage one of the largest, most reliable Internet and global Interconnect networks, which seamlessly carries our wholesale data, roaming and voice traffic.

Ooredoo Business Services is a pioneer for landing global cables and has landed major global submarine cable systems, including TGN, FALCON, GBI, FOG, DAS- HALUL, SMW3 and JAKABARE. We've also invested to land AAE1 & SMW5 Cables, TWO of the largest Global consortium cables.

We are developing a global cable and Interconnect network for Ooredoo Group, which will offer cost effective access to international nodes and manage carrier business for global capacities, IP transit and data services.

All of these capabilities are accessible to our customers through a single point of contact in our Global Capacity & Data Services Management organization, which supports Global Connectivity and Interconnect requirements, both for Ooredoo Group companies and for our international carrier partners.

Our Services:

Global Capacity Management
Sourcing and procuring Global Connectivity Solutions
Wholesale Data & Data Center Solutions
Offering wholesale Global Connectivity Solutions across the globe
International Infrastructure Development
Spearheading investment and landing of new regional and global cables at operator carrier locations
Wholesale Service Assurance and Provisioning
Efficient and seamless provisioning and delivery of Global Capacity Services

Quality Management

Ooredoo Business Services fully understands that without QoS capabilities, it is impossible for a telecom operator to offer service differentiation to customers.
QoS strategy is regular monitoring of network activity against the benchmarks for the various QoS parameters.
Monitoring dashboards/reports for diagnosis so that corrective actions are taken as quickly as possible.
Streamlining processes / SLA to improve efficiency and reduce the time taken to resolve the issues.

International Voice

System upgraded for improved visibility
KPI monitoring and reporting
Active follow-up for trouble tickets
Focused destination monitoring and preparation for Special Events.
Immediate Recommendation and Supplier testing for destination with Quality Issue
Benchmarks established based on historical data

International Roaming

Regular test calls
Active follow-up for trouble tickets
KPI monitoring and reporting
Focused destination monitoring for Special Events