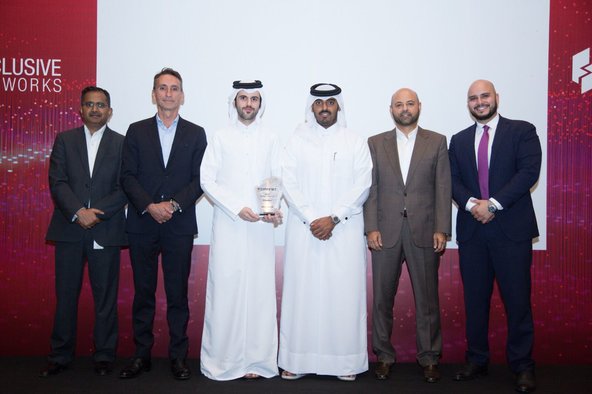 Ooredoo Recognised for Leadership in Enabling Qatar's Secure Digital Transformation on the Cloud
Ooredoo, the region's leading enabler of digital business innovation, announced today it was named Fortinet's Best Managed Security Services Partner of the Year in Qatar.
Ooredoo was honoured during the Fortinet Partner SYNC event, annual conference for partners in Doha, Qatar and the award was received by Sheikh Nasser Bin Hamad Bin Nasser Al Thani, Chief Business Officer, Ooredoo Qatar, on behalf of the company.
This Fortinet award recognises the company's strength in enabling secure nationwide digital transformation.
In the face of rising global cyber-threats, Ooredoo has collaborated with Fortinet to provide business customers with industry-leading opex-based cloud solutions across cloud email security, endpoint detection and response, firewall, managed firewall, managed intrusion prevention systems, unified threat management, web application firewall as a service.
Sheikh Nasser Bin Hamad Bin Nasser Al Thani, Chief Business Officer, Ooredoo Qatar, said: "Winning Fortinet's award for Best Managed Security Services Partner of the Year in Qatar is a major milestone for Ooredoo, and recognition as the largest and best managed security solutions provider in Qatar. With Fortinet, we aim to protect our customers' information security and help organisations to defend against cyber-threats, reduce risk, and comply with regulation."
As more Qatar organisations expand their network connectivity on the cloud, Fortinet recognised Ooredoo for providing multi-cloud solutions that can provide business customers with full security visibility and control across a variety of cloud infrastructures.
Alain Penel, Vice President Middle East, Fortinet, said: "Ooredoo receiving the Best Managed Security Services Partner of the Year award in Qatar is a testament to Ooredoo's strength in delivering the best security solutions in Qatar. Ooredoo has been a major partner in Qatar's secure digital transformation, and has helped Fortinet to expand in one of the Middle East's most high-profile and continually growing markets."
Business customers can leverage the Ooredoo Advantage, making Ooredoo "Best for Business," thanks to its breadth and depth of talent, best fixed and mobile networks, broadest portfolio of ICT services and solutions, and trusted partner for 60 years.
-END-
About Ooredoo
Ooredoo is Qatar's leading communications company, delivering mobile, fixed, broadband internet and corporate managed services tailored to the needs of consumers and businesses. As a community-focused company, Ooredoo is guided by its vision of enriching people's lives and its belief that it can stimulate human growth by leveraging communications to help people achieve their full potential.
For full details of all corporate plans, pricing and offers, ring the Ooredoo business team on 800 8000 or see ooredoo.qa/business.