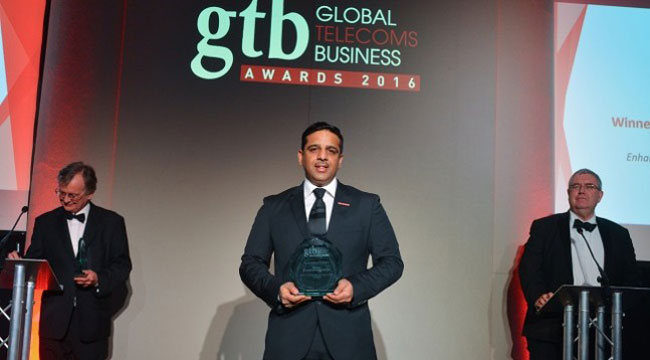 Ooredoo Companies Triumph with Five Wins, Including Two for Collaborative Network Investments
Ooredoo took home an amazing five awards at the tenth annual Global Telecoms Business Innovation Awards held in London recently.
The awards, which were accepted by Ooredoo Group, Ooredoo Qatar, Indosat Ooredoo and Ooredoo Myanmar, included honours in the Consumer Service Innovation, Business Service Innovation, Wireless Network Infrastructure Innovation and Infrastructure Innovation categories.
The wins included three awards for Indosat Ooredoo's eMagic M2M platform; Ooredoo's Mobile Money service in Qatar, Indonesia, Iraq, Maldives and Tunisia; and Ooredoo Myanmar's Bindez-Tha-Din app.
In addition, Ooredoo was honoured with two joint collaborative awards for technology deployments with global giants Nokia and Huawei.
Speaking about the success, Sheikh Saud Bin Nasser Al Thani, Group CEO, Ooredoo said: "Ooredoo continues to deliver excellence in all our operations, deploying innovative technologies that can make a real difference in the lives of our customers. These awards demonstrate how, across our footprint, Ooredoo is establishing leadership positions through advanced networks, incredible customer service and enriching people's digital lifestyles."
Ooredoo Myanmar's new Bindez-Tha-Din app and the Ooredoo Mobile Money service (OMM) received a Consumer Service Innovation award each.
Launched in 2015, Ooredoo Myanmar's new Bindez-Tha-Din app is a local language news-aggregation app developed to help connect users with useful, real-time news on politics, business, sport and entertainment. The app, which has been downloaded more than 750,000 times, was developed with information and technology start-up Bindez and enables rural audiences with poor access to basic services to reap the benefits of information connectivity and sharing.
The Ooredoo Mobile Money service (OMM) was developed in 2012 alongside MoneyGram and Qatar National Bank, and today works with multiple partners globally to support 7.5 million transactions per month across its four key markets of Qatar, Iraq, Indonesia and Tunisia.
OMM is the leading mobile financial service for customers across MENA and Southeast Asia. The award celebrates the service's efficient distribution, unique models of deployment and a wide range of services including remittance, payroll, micro-finance, loans and personal insurance as well as deposits, payment, withdrawal and transfer functionality.
In the Business Service Innovation category, Indosat Ooredoo's eMagic took home the award, demonstrating the benefits of Indonesia's first cloud-based M2M platform.
Packaged as an extremely reliable wholly-managed service that provides critical business solutions, eMagic primarily targets large businesses and service providers who want to deploy M2M solutions embedding connectivity, from GPS tracking, fleet management, smart metering, and industrial telemetry.
In the joint award categories, Ooredoo and Huawei won the "Infrastructure Innovation Awards" in recognition of their close collaboration on Project UNIFY-Transforming Infrastructure with Network Function Virtualisation.
Nokia and Ooredoo Qatar also took home a joint award for Wireless Network Infrastructure Innovation for the Nokia Predictive Optimization service, which supports faster implementation of performance improvements on the Ooredoo network.
Organised by Global Telecoms Business magazine, the Innovation Awards recognise innovation and excellence throughout the international telecoms industry. This year, entrants competed in five categories - fixed network infrastructure innovation, wireless network infrastructure innovation, wholesale service innovation, business service innovation and consumer service innovation.
The Global Telecoms Business Innovation Awards have become one of the most prestigious awards event of the wholesale telecoms calendar. Now in its tenth year, the 2016 edition attracted more entries and higher profile attendance than ever before.