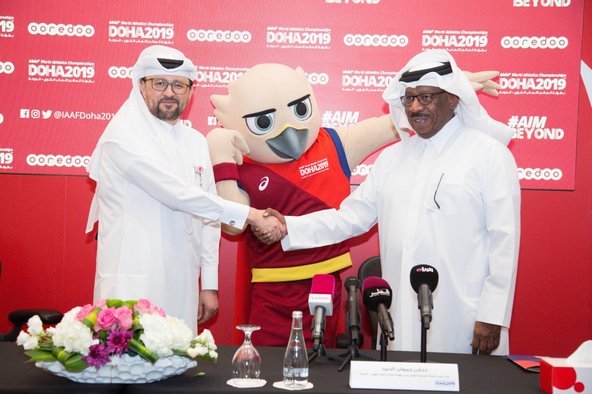 Telecommunications Company Becomes A National partner for the Biggest Sporting Event to be Held in the Middle East this September
Qatar's leading telecommunications operator is continuing to connect communities throughout the country, announcing its national partnership for the IAAF World Athletics Championships Doha 2019, which will bring together thousands of fans from 213 countries across the world.
The IAAF World Athletics Championships will be the biggest sporting event to take place in the Middle East when over 2,000 of the world's best athletes compete in the Khalifa International Stadium for the ten-day event being held from Friday 27 September to Sunday 6 October 2019.
Speaking about the partnership, Waleed Al Sayed, Chief Executive Officer, Ooredoo Qatar, said: "We're very excited to be supporting this major sporting event and contributing to its success by enhancing spectators' experience and providing world class technology that will ensure everyone at the stadium stays connected and enjoys the internet. We recognise how important this event is, and are very happy to be working with the IAAF to bring such a world-renowned tournament to Doha. We're looking forward to some incredible athletics and a successful event for all involved."
Dahlan Al Hamad, Vice chairman and Director General of the Organizing Committee - IAAF World Athletics Championships Doha 2019, said: "Sport is about connecting people and bringing everybody together, sharing their love for the game. The IAAF World Athletics Championships will see more communities come together than ever before in Doha, which is an exciting milestone."
"As a specialist in communications, it is the perfect collaboration to have Ooredoo as a partner for the competition, telling the story of athletics to more people, connecting fans directly to the Championships this September," he added.
Fans can buy tickets online now to ensure that they don't miss out on any of the action of the IAAF World Athletics Championships Doha 2019, which runs from Friday 27 September to Sunday 6 October. The easy online process begins here:  https://iaafworldathleticschamps.com/doha2019/
-END-
About Ooredoo
Ooredoo is Qatar's leading communications company, delivering mobile, fixed, broadband internet and corporate managed services tailored to the needs of consumers and businesses. As a community-focused company, Ooredoo is guided by its vision of enriching people's lives and its belief that it can stimulate human growth by leveraging communications to help people achieve their full potential.
Twitter: @OoredooQatar
Facebook: https://www.facebook.com/ooredooqatar/
LinkedIn: https://www.linkedin.com/company/ooredooQatar
YouTube: https://www.youtube.com/user/OoredooQatar
Website: www.ooredoo.qa
About IAAF World Athletics Championships Doha 2019
The IAAF World Athletics Championships Doha 2019 is the seventeenth edition of the competition which will be held in the Middle East for the first time.
Held in the Qatari capital Doha, 3,500 athletes, officials and coaches will be part of the biggest ever sporting event to be held in the region.
The World Championships will see a world first, with a midnight marathon taking place along Doha's Corniche, against the backdrop of the city's impressive skyscrapers, whilst the majority of athletes will compete in the impressive all-seater Khalifa International Stadium.
Athletes from 213 countries will compete across 128 events during the ten days which get underway from Friday 27 September to Sunday 6 October, with further information available online at https://iaafworldathleticschamps.com/doha2019/ and on social media channels using #AimBeyond