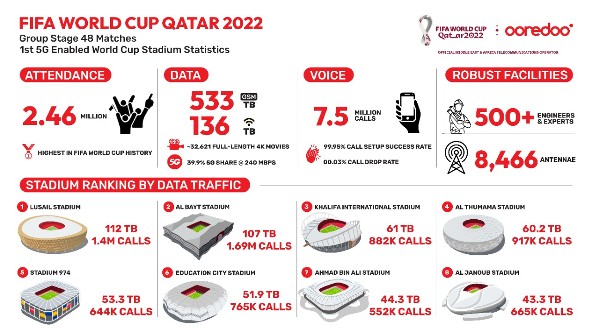 Leading Telco Records Phenomenal Demand for Network and Services Catering to More Than 2.46 Million Fans
Ooredoo – Official Middle East & Africa Telecommunications Operator of FIFA World Cup Qatar 2022™- has released figures confirming the incredible demand for its network and services as the world's biggest sporting event heads into the quarter-finals; demand it has more than capably met. 
With 48 matches having been ticked off the schedule,statistics show some 2.46 million spectators have enjoyed the games across the eight stadiums.
Some 533TB of mobile data has been used, with 136TB of Wi-Fi being used in and around the stadiums. 39.9% of data has been via Ooredoo's pioneering 5G network at speeds of up to 240Mbps, with 58.6% on the 4G network at speeds of up to 20Mbps. 434,000 fans have used roaming while at the event.
An incredible 7.5 million voice calls have been made, of which 62.9% were over VoLTE, with a call set-up success rate of 99.95%.
Sheikh Mohammed bin Abdulla Al Thani, Deputy Group Chief Executive Officer and Chief Executive Officer of Ooredoo Qatar, said: "These impressive statistics show just how well prepared we were to host such a major international tournament in Qatar. Fans attending the event have demanded superfast internet speeds, seamless connectivity and reliable voice calls, and we've been able to deliver all this and more to enable everyone to upgrade their worlds with a vastly enhanced fan experience."
A comprehensive 4G/5G mobile network modernisation- incorporating the very latest, most advanced equipment and functionalities - ensured Ooredoo was more than prepared for FIFA World Cup Qatar 2022TM. This upgrade ensured proper network capacity and resiliency throughout all network components for both national and international segments, and included full modernisation of its core, with a sophisticated cloud core network in state-of-the-art data centres.
A major upgrade of outdoor radio sites with the latest 5G technology was intended to maximise country-level coverage, including stadiums, airports, rail networks, fan zones and other FIFA-related facilities. Enhanced capacity for fan zones and other event venues and hotspots has ensured crowds can be adequately catered for.
More than 1,130 multi-beam antennas, connecting over 355km of RF cables and over 202km of fibre optic, cover the eight stadiums and immediate surrounding areas with 4G and 5G. Mobile network services with 5,000+ cells, 1,500+ DOTs, TETRA services and Wi-Fi backbone offer
state-of-the-art 5G, 4G, 3G and 2G technologies at all eight stadiums.
Supporting the state-of-the-art network and service, more than 500 experts on the ground have been working around the clock to ensure seamless connectivity and ultra-reliable voice calls.
Sheikh Mohammed bin Abdulla concluded: "The excitement is ramping up as we move further into the second half of the tournament; we fully expect demand for our world-class services to rise in parallel, and look forward to continuing to deliver."
-ENDS-
About Ooredoo
Ooredoo is Qatar's leading communications company, delivering mobile, fixed, broadband internet and corporate managed services tailored to the needs of consumers and businesses. As a community-focused company, Ooredoo is guided by its vision of enriching people's lives and its belief that it can stimulate human growth by leveraging communications to help people achieve their full potential.
Twitter: @OoredooQatar
Facebook: https://www.facebook.com/ooredooqatar/
LinkedIn: https://www.linkedin.com/company/ooredooQatar
YouTube: https://www.youtube.com/user/OoredooQatar
Website: www.ooredoo.qa