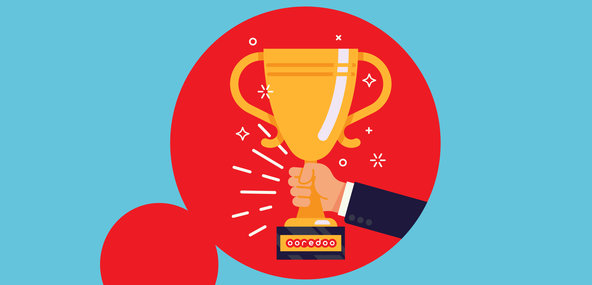 Ooredoo Group confirmed today it has maintained its world ranking in the Telecoms 300 2020 report, as one of the top 50 global telecommunications brands for fourth year in a row, with a brand value worth over USD 3.5 billion.
As in 2019, the Qatar-based telecommunications provider continued to hold 41st place in the listed Top 50. Ooredoo Group also maintained its Brand Rating status of AA+ for the second consecutive year.
Thanks to its successful global rebranding programme, continued investment in high-speed networks and iconic advertising campaigns featuring global brand ambassador Leo Messi and other local stars, Ooredoo's total brand value has grown more than 4 times over the years, bringing it closer to becoming one of the best-recognised communications brands in the world today.
Industry valuation and strategy consultancy Brand Finance produces the rankings list annually according to valuations of telecommunications companies worldwide. Brands are first evaluated to determine their strength – based on factors such as marketing investment, familiarity, loyalty, staff satisfaction and corporate reputation – and this strength is then used to calculate the proportion of a business's revenue that is contributed by the brand. Information from each process then informs the rankings of the world's most valuable telecoms brands.
In monitoring the consistent increase in Ooredoo Group's brand value, Brand Finance has watched closely the company's global brand roll-out since 2013. The Doha-based telecommunications operator is now active in 10 markets across the Middle East, North Africa and Southeast Asia.
In 2020, Ooredoo Group has continued to make significant investments across its operations, including an ongoing complete digitalisation programme and substantial network upgrades. In 5G, the telco leader is a global pioneer, thanks to a series of initiatives, ranging from fibre optic cabling to working with suppliers of cutting-edge handsets. Ooredoo's commitment to complete customer satisfaction has strengthened overall brand value.
Speaking of the 2020 ranking, Sheikh Saud Bin Nasser Al Thani – Group Chief Executive Officer – Ooredoo, said: "We are delighted to confirm that, once again, we are among the Top 50 global telecommunications brands, recognising our significant contributions to the industry. Our success in telecommunications comes from our exemplary leadership team, supported by an innovative board of directors and our visionary leaders in Qatar. The latest recognition of our efforts by industry analysts makes us very proud."
"We will continue to develop our products and services by meeting the needs of new customers and new markets around the world, with novel and innovative technologies. Our ambition is to become data experience leaders wherever our global footprint reaches, enhancing people's digital lives and ensuring everyone can enjoy the internet through Ooredoo's advanced networks and its many benefits in work, education, and leisure. Proud to lead and navigate the journey towards full commercial 5G, our brand is increasing in reputation and prestige alike. Despite a difficult start to 2020 globally, we aim to consolidate our position as one of the world's top 50 telecoms brands this year," added Sheikh Saud.
The 2020's Telecom 300 report is available to read via https://brandfinance.com/images/upload/brand_finance_telecoms_150_2020_preview_1.pdf.
-END-
About Ooredoo
Ooredoo is an international communications company operating across the Middle East, North Africa and Southeast Asia. Serving consumers and businesses in 10 countries, Ooredoo delivers the leading data experience through a broad range of content and services via its advanced, data-centric mobile and fixed networks.
Ooredoo generated revenues of USD 8.2 billion as of 31 December 2018. Its shares are listed on the Qatar Stock Exchange and the Abu Dhabi Securities Exchange.
Website: www.ooredoo.com
LinkedIn: www.linkedin.com/company/ooredoo-group/
Twitter: www.twitter.com/ooredoo
Facebook: www.facebook.com/ooredoogroup
Instagram: www.instagram.com/ooredoogroup
YouTube: www.youtube.com/ooredoogroup