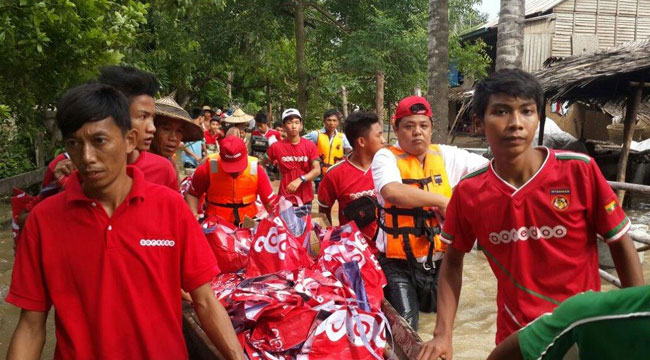 Invites customers to donate spare credit via dedicated SMS crisis-code, while supporting relief & reconstruction efforts across the country.
After seeing first-hand the scale of disaster and extent of community needs across Myanmar, Ooredoo has offered support to those affected in the country's 11 national disaster zones following severe seasonal flooding.
Additionally, Ooredoo Myanmar has launched a SMS crisis-code, "Help Myanmar," which invites customers to donate their credit balance, or part there-of, to flood victims.
"Help Myanmar" will provide immediate and long term aid to flood-affected people and regions. In all, 11 out of 14 regions in Myanmar have been impacted by extreme weather conditions resulting in flooding and landslides. Homes, workplaces and schools have been destroyed, and Ooredoo has pledged its commitment to supporting the reconstruction of educational facilities in cooperation with the Ministry of Rescue and Resettlement.
H.E. Sheikh Abdulla Bin Mohammed Bin Saud Al-Thani, Chairman of Ooredoo, commented: "We are deeply concerned for those who have been affected by this severe flooding and are working to help ease their burden during this critical time. Besides providing essential support, we are working diligently to minimize network disruptions to help ensure that we can continue to provide a vital lifeline to affected communities. We hope that the situation improves soon and flood waters recede so that recovery work can begin as quickly as possible."
Ooredoo Myanmar is utilising its nationwide network of employees, dealers, and distributors to assess local conditions and needs. The firm intends to directly distribute food, water, medicine, blankets and assist with the provision of temporary shelter to the communities that it can safely access. For inaccessible regions, the company will make the same donations to local authorities for their distribution.
Ooredoo Myanmar provided support of over 20 million MMK in two affected states earlier this week and is making donations in other flood affected regions of up to US$170,000. Ooredoo Group has pledged to match this donation with an additional US$200,000 to contribute to reconstruction efforts after flood waters recede.
When the flood waters recede, the additional US$370,000 donation will support clean-up and rebuilding efforts. This contribution will be made to local authorities and directed to reconstruction efforts in affected states. Specific needs per state are to be assessed with Ooredoo's dedicated taskforce and local authorities.
Ooredoo actively supports the GSMA's Humanitarian Connectivity Charter, launched at the GSMA Mobile World Congress earlier this year, which demonstrates the commitment of the mobile industry to support customers and first responders before and during humanitarian emergencies.
Ooredoo has longstanding commitments to support the communities across its footprint during challenging times. The company consistently provides immediate assistance and emergency aid to areas affected by natural disasters. In 2010, Ooredoo through its operating company, Indosat provided support for people in Yogyakarta followed the eruption of the Mount Merapi volcano that forced the evacuation of 350,000 people. This approach expanded to include the construction of 100 homes, a water supply and a children's playground for displaced people, which was completed in 2012. Ooredoo also made significant contributions to victims of severe flooding across Indonesia in 2013 and 2014. Earlier this year, Ooredoo companies united to provide support to people in Nepal following the major earthquake which devastated the country and during a water crisis in the Maldives provided both humanitarian aid and connectivity solutions.