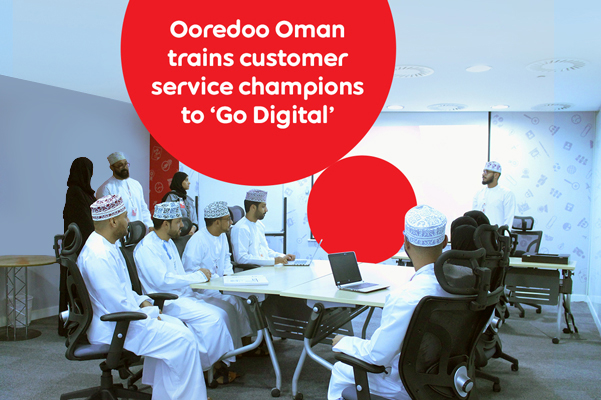 Muscat, Oman
As part of the digital transformation in the Sultanate, Ooredoo Oman has expanded the role of the Customer Service Champion, investing in training for all of their Contact Centre staff. Now, as well as interacting through the Contact Centre, the new Digital Champions can serve customers through social media channels such as Facebook, Twitter, Ooredoo's Live Chat and WhatsApp. The new Champions have been trained on the necessary skills to handle clients across online portals. This initiative is in alignment with the Ministry of Manpower to enhance Oman's talent pool and prepare the youth to face the increased demand for digital services.
Ian Dench, Chief Executive Officer at Ooredoo Oman, said, "Today, customers increasingly prefer to engage with us or contact us through social media. We are therefore expanding the role of all of our Contact Centre staff to include all forms of social media. This new Digital Champion role is a first for the Sultanate."
Throughout the year, all current Champions will receive training on how to handle customers on social media, for Ooredoo making every internet experience more enjoyable.
This new enhancement to Customer Care is part of Ooredoo's efforts to digitally enable and develop employees, as well as transform Oman's digital landscape, and foster a more interactive telecommunications sector. The company's new Digital Champion role keeps Ooredoo at the forefront of customer experience in telecommunications across Oman.
About Ooredoo Oman
Omani Qatari Telecommunications Company SAOG ("Ooredoo") was founded and registered in the Sultanate of Oman in December 2004. It launched its service in March 2005 as the challenger mobile operator in Oman, originally operating under the name Nawras. The Company was awarded the second fixed licence in Oman in 2009, and launched its international gateway in April 2010, its corporate fixed and broadband services in May 2010, and its residential fixed and broadband services in June 2010. Since 2010, Ooredoo has been an integrated services telecommunications operator and is currently serving over 3 million customers across the Sultanate. Following a successful IPO on 1 November 2010, Ooredoo is listed on the Muscat Stock Market (MSM) under the "ORDS" ticker. Ooredoo is majority owned by Ooredoo Q.S.C. and also has a number of significant Omani shareholders which ensures that the company is strongly integrated into the Omani society. Ooredoo has won a number of awards including Jury's Distinction Award for Customer Service Excellence in the telecom sector 2013, Leading Telecommunications Company at the Arab Achievement Awards 2013, Best Operator Network at the Telecoms World Middle East 2013 Awards, the CommsMEA award for Middle East Mobile Operator of the Year 2015 and Best Telecommunications Company at the Arab Achievement Awards, 2016.
Twitter: @OoredooOman
Facebook: www.facebook.com/OoredooOman
Instagram: @OoredooOman
YouTube: www.youtube.com/OoredooOman
Snapchat: Ooredoo_Oman
About Ooredoo Group
Ooredoo is an international communications company operating across the Middle East, North Africa and Southeast Asia.  Serving consumers and businesses in 10 countries, Ooredoo delivers the leading data experience through a broad range of content and services via its advanced, data-centric mobile and fixed networks.
Ooredoo served 164 million customers and generated revenues of USD 8.9 billion as of 31 December 2017. Its shares are listed on the Qatar Stock Exchange and the Abu Dhabi Securities Exchange.
Twitter: @Ooredoo
Facebook: facebook.com/ooredoogroup
LinkedIn: http://www.linkedin.com/company/ooredoo
YouTube: www.youtube.com/ooredoogroup