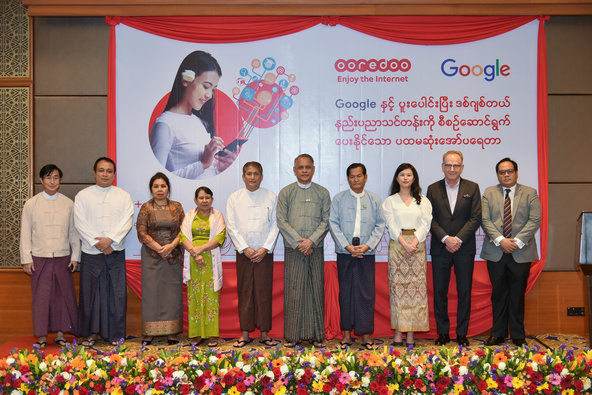 Phase one of the program to involve 25 education colleges plus 25 teacher training schools
300 school teachers across Myanmar expected to be certified
Ooredoo Myanmar, in collaboration with Google and supported by the Ministry of Education today launched a digital literacy and digital citizenship training program nationwide. This private-public initiative aims to upskill and improve the two important skill sets among the teacher and student population of Myanmar.
Google believes in the helpfulness of technology to improve the lives of students and educators; and learning digital literacy and citizenship in the classroom can make the internet a better place for everyone. Ooredoo wants to empower students and educators through technology by helping them develop these useful skills responsibly. Both parties have come together with the Ministry of Education to roll out the training program across Myanmar.
Mr. Rajeev Sethi, Chief Executive Officer of Ooredoo Myanmar said," Ooredoo as the leading digital enabler in Myanmar has been spearheading the digital transformation in the country. We all live and work in digital networks and "digital literacy" is the key to utilizing the power of internet and its digital contents. We are teaming up with Google to teach young children at their schools about digital literacy and encourage them to use the internet wisely, smartly and responsibly. Teaching them young will help them to become good digital citizens of the future. This initiative is the second step of our "Learn with Internet to enrich your digital lives" Social Responsibility program."
It is important for educators to help students become responsible digital citizens since the youth of Myanmar already live their lives in the digital age. Through alignment with the Ministry of Education, Ooredoo will be delivering the Google-developed digital literacy and citizenship training at 50 identified places – 25 Education Colleges and 25 Teachers Training Schools across Myanmar. By leveraging on this online literacy and safety program, Ooredoo will also provide internet connectivity and 300 laptops to schools covered under the program.
"Digital literacy is one of the most significant issues we all face as a society as a new generation grows up with the Internet at their disposal 24/7. It's important that we help our young develop empathy and responsibility and look out for one another online — just like we teach them to be offline. We hope this training program will lead to meaningful conversations on digital safety and respect at home, school and many other places," said Su Ann Lim, Google Head of Industry for Technology and Telco.
Ooredoo and Google hope this program will support Myanmar digital transformation and help develop digitally skilled youth who will be responsible internet citizens.
-----------------------------------------------------------   End   -----------------------------------------------------
For more information, please contact:
Ooredoo Communication Team
+959973333322
About Ooredoo Myanmar
Ooredoo Myanmar was awarded a license to operate in Myanmar in June 2013. Ooredoo is now a leading provider of telecommunication services in Myanmar with the objective of "Enriching people's digital lives". Ooredoo Myanmar today has a range of life-enriching services for consumers to enterprise, government and SME customers. These services provide a platform for human growth and empowerment and are designed to help people achieve their full potential and businesses run more efficiently. Ooredoo Myanmar is committed to enriching the lives of Myanmar people through its products, services and CSR initiatives.
Website: www.ooredoo.com.mm
Instagram: @ooredoomyanmar
Facebook: www.facebook.com/OoredooMyanmar
LinkedIn: www.linkedin.com/company/ooredoomyanmar
About Google
Google's mission is to organize the world's information and make it universally accessible and useful. Through products and platforms like Search, Maps, Gmail, Android, Google Play, Chrome, and YouTube, Google plays a meaningful role in the daily lives of billions of people and has become one of the most widely-known companies in the world. Google is a subsidiary of Alphabet Inc.