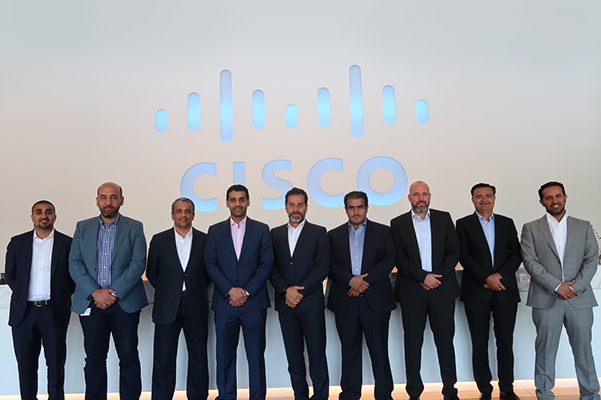 With the worldwide leader in IT and networking "CISCO"
Ooredoo Kuwait concluded its first meeting successfully in Silicon Valley
Al Thani: "Ooredoo will continue deliver the best in class digital services to our customers"
Silicon Valley/San Francisco Bay/Cal./USA: Representatives and leaders from Ooredoo Kuwait have landed a few days ago in the land of the miniaturized electronics industry "Silicon Valley" in California USA. This visit comes as part of the company's commitment to continue leveraging on its digital approach towards serving its customers in a superior manner. The visit will include various meetings at some distinguished technology companies and organizations.
This special visit to Silicon Valley was commenced with a meeting held at CISCO, a worldwide leader in IT and networking; whereby Ooredoo Telecom management met a number of executives there.
Ooredoo Kuwait delegation is headed by CEO Sh. Mohammed bin Abdullah Al Thani who stated the importance of this visit and said in an official statement: "The main objective behind our visit to CISCO comes in line with Ooredoo strategy "Digitize to Differentiate", whereby we focus on digital as a key pillar to transform our customers' experience and enriching our breadth of offerings while adopting a mobile-first mindset".
Al Thani referred to a recent collaboration between Ooredoo Kuwait and CISCO back in March this year and said "With the support of CISCO, we will be able to deliver the best in class services to our customers, and move forward with our network modernization plans to bring the best cutting-edge technology services to the Kuwaiti Market".
Ooredoo Kuwait delegation will be visiting a number of renowned tech companies while in Silicon Valley and the visit will continue for a week. 
About Ooredoo
Ooredoo is an international communications company operating across the Middle East, North Africa and Southeast Asia. Serving consumers and businesses in 10 countries, Ooredoo delivers the leading data experience through a broad range of content and services via its advanced, data-centric mobile and fixed networks.
Ooredoo served 164 million customers and generated revenues of USD 8.9 billion as of 31 December 2017. Its shares are listed on the Qatar Stock Exchange and the Abu Dhabi Securities Exchange.
Twitter: @OoredooKuwait 
Instagram: OoredooKuwait 
Facebook: facebook.com/OoredooinKuwait 
YouTube: youtube.com/OoredooinKuwait 
Snapchat: ooredooKuwait