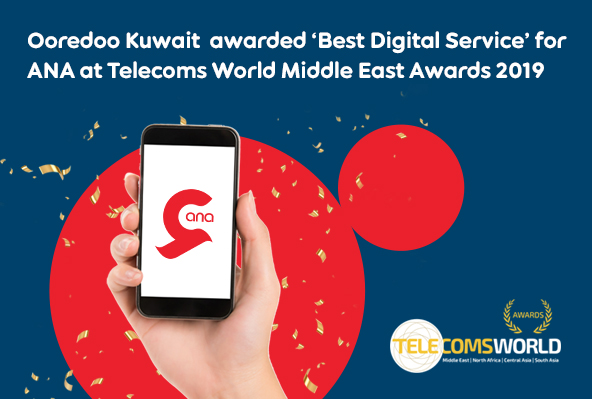 The first operator to provide personalized mobile plans to enrich customers' digital lives
Al-Shallal: This award is a culmination on the unique relationship we have with our customers. We respect our customers and are committed to providing them with everything that enriches their experience
ANA, the first operator to provide personalized mobile plans to enrich customers' digital lives
Ooredoo Kuwait is proud to announce that it won the 'Best Digital Service' at the prestigious Telecoms World Middle East Awards 2019 that took place earlier last week at The Conrad Hotel in Dubai. Entering its fifteenth consecutive year in Dubai, Telecoms World Middle East is the go to event for CxOs from across the TMT industry who want to learn how technology, innovation, variation and partnerships can transform and diversify the future of TMT.. The winners are selected through a judging committee based on strict conditions and criteria.
Ooredoo was able to secure the award for Best Digital Service for ANA, the first operator to provide personalized mobile plans to enrich customers' digital lives in partnership with Matrixx Software, a Silicon Valley-based company that specializes in advanced mobile software, to digitally transform the mobile experience for mobile customers in Kuwait.  'ANA' specializes in helping mobile customers buy, manage, share and pay for digital services.
Ooredoo was the first operator in the Kuwait market to launch such a service, which provides an all-digital, individually customized mobile product that gives customers complete control of their mobile plans and digital worlds, and makes it easier to buy, use and pay for Ooredoo services directly from their mobile phones. 'ANA' is the ideal platform for the Kuwait market and help provide consumers with smart and new communication technology in line with the plans of digital transformation and the vision of New Kuwait 2035.
This achievement is a testament to Ooredoo's leadership in keeping up with the competitive telecommunications sector. The company stated "
Marketing Communications Director at Ooredoo Kuwait Yousef Al-Shallal said, "This award is a culmination on the unique relationship we have with our customers. We respect our customers and are committed to providing them with everything that enriches their experience. We continue to offer them the best in line with our core values of caring, connecting and challenging. Today, the awards are a testament to the fact that we have challenged ourselves to become the best and we dedicate this award to all our customers that have given us their trust over the year."
"Ana enriches our customers' digital experiences with the freedom to choose and customize the digital package that fits their needs through features like eSIM, roaming and booster packs. Customers can create their own mobile number, make appointments, track health, pay bills, and much more. We are proud to push the digital experience boundaries for our customers, bringing the best of Silicon Valley through our partnership with Matrixx". Al Shallal further added, "Kuwait's first all-digital, individually customized mobile product is a true reflection of our digital transformation strategy that we are pursuing in Ooredoo Kuwait and living up to our vision of enriching people's digital lives".
Ooredoo is keen to use ANA to help empower a growing population of young, digital savvy customers with the latest technology, in line with Kuwait's wider digital transformation plans related to New Kuwait 2035.
For more information, please contact 121, our team will answer all inquiries around the clock 7 days a week. Or visit our website www.ooredoo.com.kw or the nearest shop to you, or simply use our App 'MyOoredoo' for updates and more.
-END-
(Notes to Media)
About Ooredoo Kuwait:
Ooredoo's operations in Kuwait date back to December 1999 and provides mobile, broadband internet and other services tailored to the needs of our B2C and B2B customers. Ooredoo Kuwait –which is an enlisted company in the Kuwait Stock Exchange Market – operates a number of telecom service providers in the region, such as Ooredoo Algeria, Ooredoo Tunis, Ooredoo Maldives, and Ooredoo Palestine.
Ooredoo Kuwait is a member of the international Ooredoo Group.
Our vision: Enriching Customers' Digital Life
Our mission: To be a leading one-stop shop, offering comprehensive telecom services to meet all the demands of our customers.
Our values: Connecting Caring and Challenging
Get in Touch:
| | |
| --- | --- |
| @OoredooKuwait    | Twitter |
| OoredooKuwait    | Instagram |
| OoredooinKuwait   | Facebook |
| OoredooinKuwait   | YouTube |
| www.ooredoo.com.kw | Website |
About Ooredoo
Ooredoo is an international communications company operating across the Middle East, North Africa and Southeast Asia. Serving consumers and businesses in 10 countries, Ooredoo delivers the leading data experience through a broad range of content and services via its advanced, data-centric mobile and fixed networks.
Ooredoo generated revenues of USD 8.2 billion as of 31 December 2018. Its shares are listed on the Qatar Stock Exchange and the Abu Dhabi Securities Exchange.