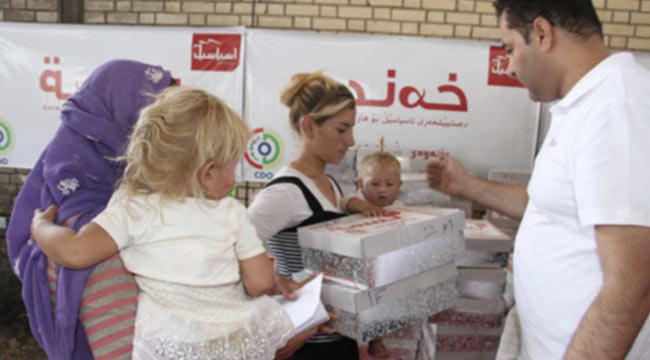 First-Ever Middle East Summit on Mobile Tech and Crisis Response Tackles Key Issue as 33.3 Million People Internally Displaced across the World.
Ooredoo is working with the GSMA and Souktel Mobile Solutions to develop new partnerships and enhance current strategies to manage disaster preparedness, following the first-ever Middle East Summit on Mobile Technology and Crisis Response.
As countries across the Middle East face growing humanitarian crises, mobiles are playing a key part in regional aid efforts. When Iraqi refugees were asked about their urgent needs in a recent poll, mobile charging stations were the main form of help they requested after food and water. As a result, aid agencies rushed to include solar-powered mobile chargers in emergency relief packages.
According to the GSMA mobile economy 2014 Arab States report, at the end of 2013, the Arab States of the Middle East and North Africa region accounted for 195 million of the 3.4 billion unique mobile subscriptions worldwide – a 53% penetration rate. At the same time, it is estimated that global conflict had forced 33.3 million people to become internally displaced people (IDPs) and a further 17 people million people to become refugees at the start of 2013, with more than 600,000 people residing as refugees within Jordan.[1]
This crisis puts pressures not only on the displaced populations themselves, but on the host communities, local infrastructure and service providers. These were the issues that the Middle East Summit on Mobile Technology and Crisis Response sought to examine. Held in Amman, Jordan, the event brought together more than 30 leaders in the aid and telecoms sectors to build partnerships that will enable quicker, more effective service delivery in emergencies.
Ooredoo Group has a long history of providing emergency aid via technology such as a recent Gaza SMS donation campaign by Wataniya Palestine. During the month-long drive, customers across Palestine could donate directly to relief efforts by pledging funds via text message, through their mobile accounts. These rapid donations helped get real-time assistance to families across the Gaza Strip.
Dr. Nasser Marafih, Group CEO, Ooredoo, said: "Disaster relief and preparedness are becoming increasingly important elements of our strategy for serving the community, particularly as mobile technology opens new opportunities to help people and provide support. Being there to connect and care for people during emergency situations is one of Ooredoo's core values – and one we are striving to support in every market that we operate in."
Most recently, Ooredoo Maldives has been in action to help tackle the Male water crisis, which left thousands of people without fresh water after a fire broke out at the main water and sewage company. To help alleviate the crisis, Ooredoo Maldives provided a water tracking service on Ooredoo locate - the company real-time vehicle tracking system - which enabled users to find nearest mobile water units across Male. In addition, Ooredoo Group made a significant donation to the relief fund.
Over the summer, Asiacell, Ooredoo's company in Iraq, pledged to help keep communication alive within conflict areas by distributing 10,000 free SIM cards equipped with a free SMS notification service offering vital information for Internally Displaced Persons and refugees. It also established a call centre in Sulaimanyah, aiming to connect people with the dedicated organisations and programmes that provide support, as well as donated handsets to refugee camp representatives to enable families to contact each other across war zones.
In addition, Ooredoo's Indosat provided emergency aid and free mobile access to help communities in Indonesia affected and forced from their homes by major flooding at the start of 2014.
"Access to mobile network services can be a lifeline for those affected by crisis," said Kyla Reid, Head of Disaster Response, GSMA. "Innovative partnerships between mobile network operators and humanitarian organisations is critical in ensuring that those displaced or impacted by humanitarian emergencies are able to connect, seek and receive critical information and are able to support response activities in their communities."
Jacob Korenblum, CEO, Souktel Mobile Solutions, added: "Partnerships are essential for achieving impact in humanitarian response work. In this sense, it is encouraging that mobile network operators like Ooredoo Group are presenting themselves as pro-active partners who are keen to make a difference by working jointly with other public and non-governmental aid providers."
With millions of mobile customers now facing another year as refugees – including growing numbers in Ooredoo Group markets like Iraq and Tunisia – the need for strong cooperation between humanitarian aid providers and mobile networks is only likely to grow further. The Middle East Summit on Mobile Technology & Crisis Response provided a crucial first step, paving the way for new partnerships between agencies like the UN and mobile networks across the region.