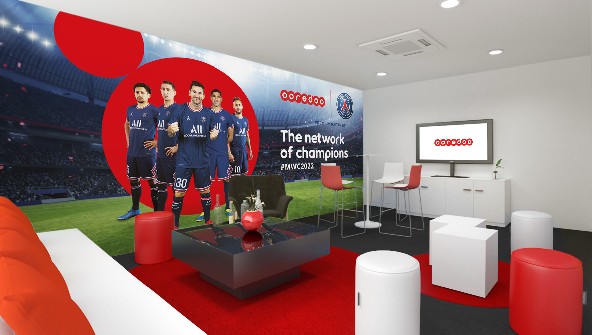 Ooredoo, one of the world's leading providers of ICT and a 5G pioneer, is to return to Mobile World Congress 2022 as the event resumes at the end of February.
The key themes for this year's event are 5G Connect, Advancing AI, Cloud Net, FinTech, Internet of Everything and Tech Horizon. In line with these themes, Ooredoo will update the industry on the many exciting developments on which it has been working since the last edition of MWC, and will share exciting news of its latest partnerships, products and solutions.
One such partnership is with FIFA, with Ooredoo Qatar being selected by the sports giant and the Supreme Committee for Delivery and Legacy to provide a global network connecting Doha with various points of presence in Europe and Asia. The telco leader will explain how it is to build a dedicated multi-100Gig network that will offer broadcasters the quality and resiliency required for broadcast-grade video production, with media rights licensees being offered optimised resilient media solutions.
Ooredoo Qatar will also share details of a groundbreaking solution, developed in partnership with technology giants Ericsson and Nokia, that will revolutionise connectivity for customers in the oil and gas industry. Having identified that such customers needed to replace older technology with a solution that facilitated connectivity in remote, challenging locations such as those offshore, Ooredoo and its partners developed a dedicated LTE network that would provide high-availability voice and data services to support oil and gas applications and operations in such remote locations beyond the normal fixed and mobile network footprint.
In addition, the company will update the telecoms industry on its exciting venture into eSports, sharing details on its own eSports brand, Ooredoo Nation – Gamers' Land. Recent developments include the launch of gaming Add-ons for postpaid plans; the launch of Channel 0, a dedicated gaming channel on Ooredoo tv; the latest Ooredoo Arena tournaments; and the collaboration with Dell Technologies to further cement commitment to contribute to the eSports scene in Qatar and the region.
Aziz Aluthman Fakhroo, Managing Director and CEO, Ooredoo Group, said: "We are delighted to once again be participating in Mobile World Congress, the most important international event in our industry. As a pioneer in 5G, with a strategic commitment to investment in innovation and technology, we have several exciting developments to announce at the event, in line with the key themes. We look forward to sharing our experience and expertise, and to discovering news from our peers and the industry."
-END-
About Ooredoo
Ooredoo is an international communications company operating across the Middle East, North Africa and Southeast Asia. Serving consumers and businesses in 10 countries, Ooredoo delivers the leading data experience through a broad range of content and services via its advanced, data-centric mobile and fixed networks.
Ooredoo generated revenues of QAR 30 billion as of 31 December 2021. Its shares are listed on the Qatar Stock Exchange and the Abu Dhabi Securities Exchange.