Ooredoo Group reports QAR 7.8 bn in Revenue for Q1 2018
Group customer base up 1% to reach more than 150 million
Doha, Qatar, 25 April 2018: Ooredoo Q.P.S.C. ("Ooredoo") - Ticker: ORDS today announced results for the three months ended 31 March 2018.
Financial Highlights: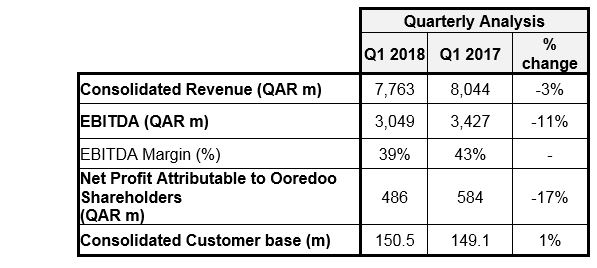 • Q1 2018 Revenue was QAR 7.8 billion, driven by strong contributions from Iraq, Kuwait, Tunisia, Palestine and Myanmar offset by Indonesia and Algeria.
• Group EBITDA stood at QAR 3.0 billion with a corresponding EBITDA margin of 39%. Excluding Foreign Exchange translation impact, Group EBITDA decreased by 10% year-on-year compared to the reported 11% decrease.
• Group Net Profit attributable to Ooredoo shareholders decreased by 17% to QAR 486 million. The positive performance in Iraq and Myanmar was offset by market challenges in Indonesia and Algeria.
• Increased monetization of data business, with significant data growth coming from consumer and enterprise customers: saw data revenue increasing to 43% of Group revenue. Revenue from data contributed QAR 3.3 billion in Q1 2018.
Operational highlights:
• Customer base is solid, increasing 1% yoy to more than 150 million, driven by multiple customer acquisition activities in Iraq, Tunisia, Maldives and Palestine.
• Ooredoo continues to be a data leader in its markets with 4G networks now available in 8 of Ooredoo's 10 markets.
• In Palestine, Wataniya Mobile made exceptional progress in customer acquisitions with the launch of its West Bank 3G network in January 2018, following the launch of services in the Gaza strip in October 2017. Customer base increased 55% to more than 1.2 million at the end of March 2018.Commenting on the results, H.E. Sheikh Abdulla Bin Mohammed Bin Saud Al-Thani, Chairman of Ooredoo, said:"The start of 2018 saw good performances in some of our markets, however challenging market conditions and new regulations impacted the overall performance of the Group.
Operationally, I am pleased to report that we maintained our pioneering position in providing customers with the latest telecom services and digital solutions. In all our markets we remain committed to helping customers, cities and countries meet their own digital transformation goals, thus enabling the development of citizens in emerging economies. We are proud to serve more than 150 million people.
Following the successful launch of operations in Gaza last year, Wataniya Palestine commenced 3G services in the West Bank in January.
The company continues to invest in 4.5G in anticipation of further growth opportunities. We are a well monetized data business, with QAR 3.3 billion in data revenue now accounting for 43% of our total revenues."
Also commenting on the results, H.E. Sheikh Saud bin Nasser Al Thani, Group Chief Executive Officer of Ooredoo said:
"The first Quarter 2018 saw a mixed set of results across our operations, with strong performances in Iraq, Kuwait, Tunisia, Palestine and Myanmar being more than offset by challenging market conditions in our biggest market in Indonesia and also in Algeria. Group Revenue was QAR 7.8 billion and EBITDA margin stood at 39%. By focusing on digital growth and cost optimisation, Ooredoo Group delivered a net profit of QAR 486 million.
Our financial results for the period reflect the challenges of the markets we operate in. Market competition, certain regulatory and tax changes have adversely impacted our financial results for the first three months of the year.
Qatar and Indonesia continue to be our biggest contributors to group revenue, with QAR 2.0 billion and QAR 1.5 billion delivered in Q1 2018. Ooredoo Oman maintained a strong market position, while Ooredoo Kuwait reported revenue growth supported by handset sales of 39% in Q1 2018. Ooredoo Tunisia made good progress with 8% revenue growth in local currency terms, defending its market leadership position. Asiacell in Iraq is benefitting from a more stable political situation and business returning to the liberated areas, revenue was up by 6%. In Algeria we sustained our mobile data leadership and continued to deploy the 4G network across the country. In Myanmar we delivered record revenues and EBITDA. ".
Operational Review
Middle East
Ooredoo Qatar
Ooredoo Qatar reported Revenue of QAR 2.0 billion, while EBITDA was QAR 955 million. Lower mobile voice and roaming revenues were partially offset by sales of Ooredoo TV and devices, reflecting the strong market appetite for new technology in Qatar. Customer numbers stood at 3.3 million, following a concerted effort to clear-up customer records and remove inactive SIMs from the market.
To build on its in-market strengths of high network quality and superior customer experience, Ooredoo Qatar launched a suite of "Freedom Services" for prepaid and post-paid customers. These Freedom Services, which make roaming and data services more attractive, have already generated a positive customer response and underlines our market leadership.
In addition, the company continued its successful roll-out of Ooredoo Fibre services, reaching more than 373,000 customers in Q1 2018. Ooredoo Qatar continued to expand its range of business services, signing strategic agreements with digital transformation specialists to support a new range of solutions.
Ooredoo Oman
Ooredoo Oman delivered slight EBITDA growth for the first three months of the year with a 53% EBITDA margin against a background of flat Revenue of QAR 661 million.
Ooredoo Oman's customer base was stable at 3 million customers, sustained by the fixed service customer base which was up 33% compared to the same period last year.
Ooredoo Kuwait
Ooredoo's customer base in Kuwait stood at 2.2 million in Q1 2018, representing a 5% decrease compared to the same period in 2017 due to intense competition and weak market conditions. Revenues for Q1 2018 were QAR 795 million, an increase of 39% compared to QAR 570 million for the same period in 2017. This increase was driven by post-paid packages in combination with handset sales that led to a compression of margins. Consequently, EBITDA was QAR 146 million in Q1 2018, slightly lower than QAR 148 million in Q1 2017.
Asiacell - Iraq
Asiacell reported good results in Iraq, with total customer numbers up by 7% to reach almost 13 million, as restoration of our network sites in the liberated areas further progressed in Q1 2018.
Revenue increased 6% to QAR 1.1 billion and EBITDA also increased 12%, reaching QAR 538 million, positively impacted by the increased revenue and good control of operating expenses. EBITDA margin improved to 48%, up from 45% in Q1 2017.
North Africa
Ooredoo Algeria
The increase in taxes, weak economic environment and intense competition in Algeria led to a decrease in the overall telecom market. Customer numbers fell by 3% to 13.5 million in Q1 2018 as a result of clean-up exercise, compared with the same period in 2017. Revenues decreased to QAR 733 million in Q1 2018, compared to QAR 880 million for the same period in 2017. EBITDA was QAR 306 million in Q1 2018, down from QAR 398 million in Q1 2017. The Algerian Dinar depreciated by 4% year on year.
Ooredoo Tunisia
Ooredoo Tunisia reported good results for the first quarter of the year. Ooredoo's customer base in Tunisia reached 8.5 million in Q1 2018, an increase of 7% compared to the same period in 2017. Revenues increased to QAR 387 million in Q1 2018, compared to QAR 379 million for the same period in 2017. EBITDA was stable at QAR 144 million, and at the same level as in Q1 2017. In local currency terms, revenue increased 8% and EBITDA increased 6%, compared to the same period last year.
Asia
Indosat Ooredoo
New regulation on SIM card registrations saw our biggest international market Indonesia report significant pressure on top line performance. Revenue decreased 23% to QAR 1.5 billion, mainly due to the loss of revenue from non-compliant customers and a change from a "push" to a "pull" distribution strategy. A decline in voice and sms, which is an industry-wide challenge, has also negatively impacted revenue. OPEX was reduced through tight cost control and group efficiencies. Due to Revenue decrease, EBITDA was down 35% in Q1 2018 to QAR 586 million compared to the same period last year.
Indosat Ooredoo's policy is to ensure strict compliance with market rules and regulations. The new SIM card regulation is implemented in a phased manner to be completed by May 2018. Indosat Ooredoo sees long term opportunities in the new market environment with a more loyal customer base, with lower churn rates that will lead to higher margins in future.
Ooredoo Myanmar
Ooredoo Myanmar reported strong financial results, with the highest revenue achieved up to date of QAR 374 million, representing an increase of 16% compared to Q1 2017. EBITDA more than tripled to QAR 65 million, while EBITDA margin of 17% was also the highest achieved up to date, underpinned by a strong cost and efficiency programme.
Customer market share improved further, with Ooredoo Myanmar now serving more than 9 million customers. During Q1 2018 Ooredoo Myanmar completed the nationwide 2G launch and made good progress in rolling out 4G.
Ooredoo's Q1 2018 financial statements will be available on its website, accessible at: http://www.ooredoo.com.
For further information:
Email: [email protected]
Follow us on Twitter: @OoredooIR
- Ends -
About Ooredoo
Ooredoo is an international communications company operating across the Middle East, North Africa and Southeast Asia. Serving consumers and businesses in 10 countries, Ooredoo delivers the leading data experience through a broad range of content and services via its advanced, data-centric mobile and fixed networks.
Ooredoo generated revenues of QAR 33 billion as of 31 December 2017. Its shares are listed on the Qatar Stock Exchange and the Abu Dhabi Securities Exchange.