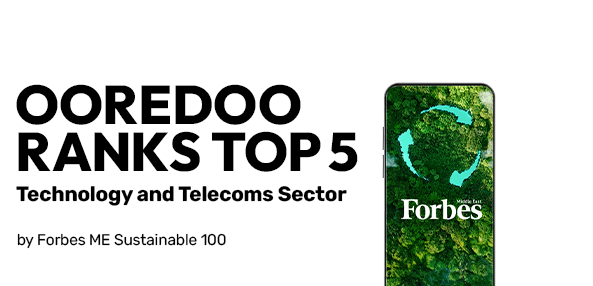 Company acknowledged for pioneering sustainability initiatives and commitment to environmental responsibility
Ooredoo Group, a leading telecommunications company, has achieved a prestigious ranking among Forbes Middle East's Sustainable 100, showcasing its unwavering commitment to sustainability and environmental protection.
Forbes Middle East's inaugural Sustainable 100 report highlights companies at the forefront of sustainable business practices across the region. The assessment spans 11 key corporate sectors, evaluating businesses on various criteria, including their environmental impact, ESG commitments, transparency, collaboration, sustainability initiatives within the past year, and their ambitious journey toward achieving net-zero emissions.
In the Technology and Telecom sector, Ooredoo Group has claimed a remarkable 4th place, firmly establishing itself among the top 5 companies making substantial strides.
Aziz Aluthman Fakhroo, MD and Group CEO, Ooredoo, said: "At Ooredoo, we are committed to the UN SDGs and the highest environmental protection standards. Sustainability is not just a corporate responsibility; it is a guiding principle in everything we do. We are dedicated to pioneering innovation, fostering environmental consciousness, and actively contributing to a more sustainable world. This recognition by Forbes Middle East reinforces our firm commitment and fuels our determination to set new industry standards for sustainability."
Across operating companies, Ooredoo Group has been heavily investing in renewable energy sources to reduce its carbon footprint, seeking to rely more on clean energy and ensuring sustainable operations.
As part of its efforts, the company is proactively transitioning from diesel generators to more eco-friendly solutions, such as grid electricity, while promoting responsible consumption and production through smart waste management solutions.
Ooredoo is currently an active participant in the GCC ESG Telecommunications Alliance, a pivotal collaboration among seven leading telecommunications companies in the Gulf region. The Alliance – considered as a new precedence for the industry - is dedicated to advancing sustainability, with a special focus on climate action. It strives to promote knowledge exchange and innovative solutions to address environmental challenges and drive sustainability.
Most recently, Ooredoo Qatar has entered into a ten-year agreement with the Qatar General Electricity and Water Corporation (KAHRAMAA) to provide advanced smart meters, enhancing water service operations. Ooredoo's cutting-edge technology aims to boost water network monitoring, management, and distribution efficiency for KAHRAMAA.
Furthermore, the company had lately announced the great strides it has achieved in its Socially Responsible Investing, a key facet of ESG. Within the Social element, the company has particularly focused on the areas of empowering women; promoting gender equality; reducing the gender gap; promoting equal opportunities and pay; and developing talent across the company.
Aziz concluded: "Ooredoo Group's steadfast dedication to environmental sustainability, combined with its innovative approach to delivering excellence in customer experience, has secured its position in Forbes Middle East's Sustainable 100. The company will continue to move forward in its journey to further advance its sustainable initiatives, driven by a clear vision to create a better, greener future for the communities it serves."
-END–
About Ooredoo
Ooredoo is an international communications company operating across the Middle East, North Africa, and Southeast Asia. Serving consumers and businesses in 10 countries, Ooredoo delivers leading data experience through a broad range of content and services via its advanced, data-centric mobile and fixed networks.
Ooredoo generated revenues of QAR 23 billion as of 31 December 2022. Its shares are listed on the Qatar Stock Exchange and the Abu Dhabi Securities Exchange.