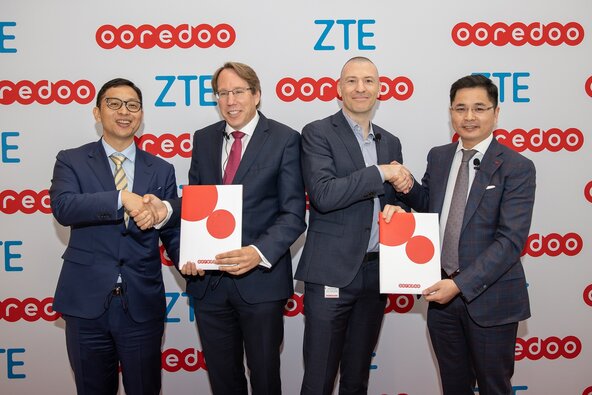 5-Year Global Frame Agreement and Special Agreement Confirmed
Ooredoo Group has announced it received a delegation of senior representatives of its partner ZTE as the two entities signed an extension of their existing partnership.
The visit comprised the first face-to-face meeting between C-suite executives from Ooredoo Group and ZTE since pandemic restrictions were lifted, enabling discussion of strategic business topics, as well as a signing ceremony to cement the extension of the partnership.
ZTE is a key service and network equipment supply partner of the Ooredoo Group, with joint operations already underway across the Group's operating companies. The official signing of the extension of the partnership between the two entities took place at a ceremony at Ooredoo's headquarters recently.
The extended partnership takes the form of a global frame agreement (GFA) for the supply of Radio, Cloud Core, Transport and 4G/5G CPE/Terminals as well as related implementation and integration services for Ooredoo Group's operating companies. The partnership extension is completed by a special agreement for ZTE to supply CPE devices such as 5G MiFi, 5G routers and others.
Nigel Byrne, Group Chief Technology Information Officer, Ooredoo, said: "We are delighted to extend our partnership with ZTE, continuing our mutually beneficial working relationship and adding further benefits for both our business and our customers. With our industry still experiencing the effects of the pandemic, such as the global scarcity of chipsets, the extended partnership will ensure stability and reliability of supply, as well as the availability of state-of-the-art products and services to our customers. From a business perspective, the partnership balances our vendor landscape, which fits perfectly with our strategic development plans."
The existing partnership has seen the two entities working together in a number of Ooredoo Group's operating companies, including Ooredoo Algeria, Ooredoo Myanmar and Indosat Ooredoo. New projects have also recently been awarded in Algeria and Indonesia for Microwave and IP-RAN data networking equipment – both oriented to the LTE and 5G era – respectively, with new supply orders of devices being placed in Kuwait, Tunisia, Algeria, Myanmar and Indonesia. Strategic plans will see elements of the partnership being further expanded to other Ooredoo companies.
Christian Linhart, Group Chief Procurement Officer, Ooredoo says: "This renewed frame agreement with ZTE represents another step in our successful partnership with them. This will enable our companies around the world to continue co-operation on a wide range of leading-edge networks supplied by one of the global leaders in telecommunications and information technology to enrich our customers' digital lives."
ZTE Global Sales President, Xiao Ming, states: "ZTE will continue to provide innovative solutions to Ooredoo Group OpCos to speed up Ooredoo's journey towards digital transformation, while delivering high-performing networks and a superior user experience driven by state-of-the-art cost-effective technology solutions."
ZTE President of MTO & Global Marketing, James Zhang states: "Ooredoo Group is one of ZTE's key Multi Telecom Operator (MTO) customers that has expanded rapidly in many markets in the MENA and Asia Pacific regions and continues to evolve its network consistently. ZTE is proud of its strong partnership momentum with Ooredoo Group and we will strive to grow this partnership with more projects in the near future".
-END-
About Ooredoo
Ooredoo is an international communications company operating across the Middle East, North Africa and Southeast Asia. Serving consumers and businesses in 10 countries, Ooredoo delivers the leading data experience through a broad range of content and services via its advanced, data-centric mobile and fixed networks.
Ooredoo generated revenues of QAR 29 billion as of 31 December 2020. Its shares are listed on the Qatar Stock Exchange and the Abu Dhabi Securities Exchange.