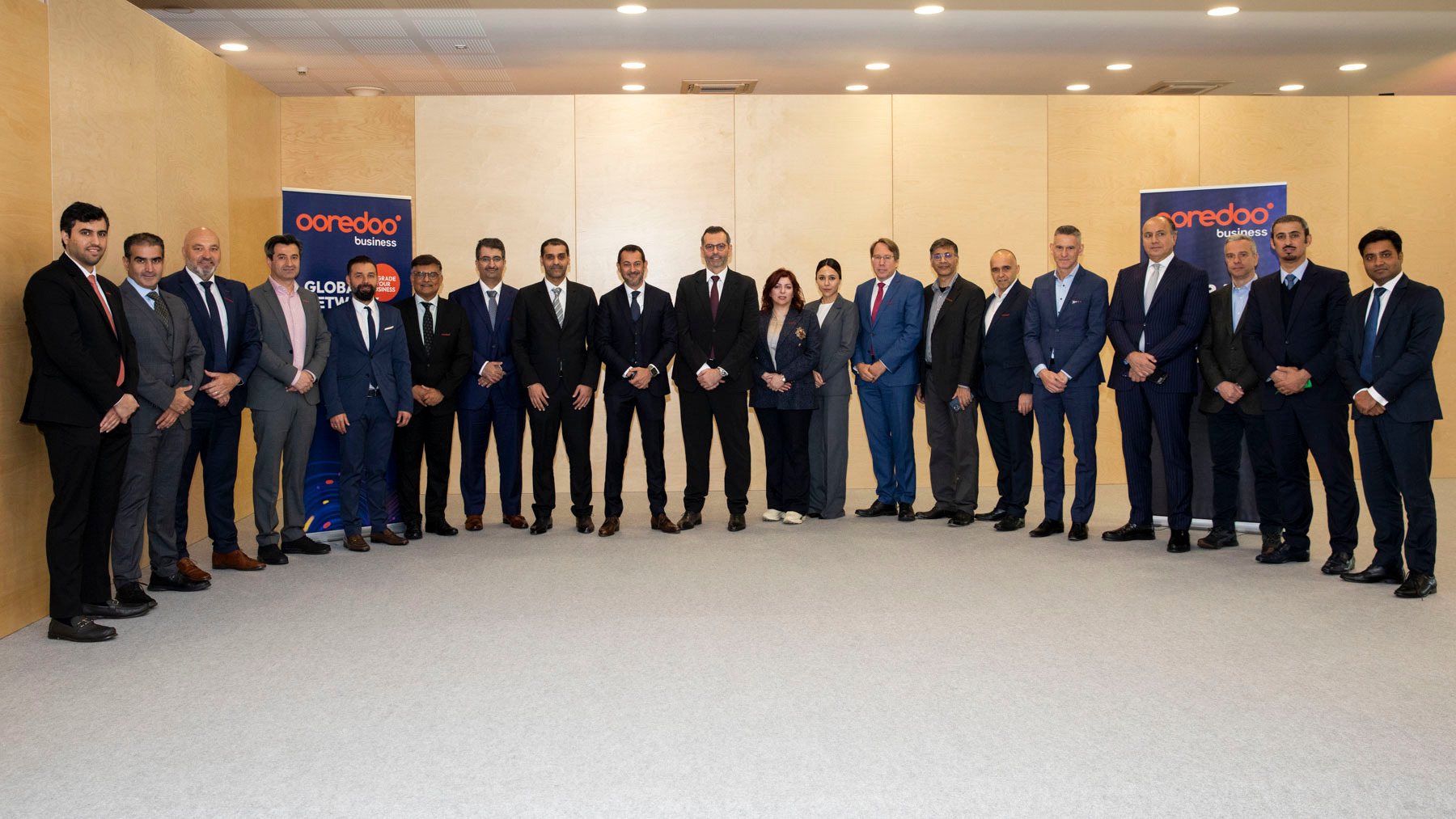 During Mobile World Congress 2023 in Barcelona
Telco leader renews relationships, cements new partnerships, explores new opportunities at world's biggest connectivity platform
Ooredoo Group has recorded successful participation at the world's largest and most influential connectivity platform, Mobile World Congress.
A delegation of executives from the Group and operating companies attended the event, holding a series of top-level meetings with industry peers and world-leading tech giants, and inking major new partnerships that aim to upgrade the world of the company's customers across global footprint.
Aziz Aluthman Fakhroo, MD and Group CEO, Ooredoo said: "Mobile World Congress is the ideal platform via which we can connect with major players in our industry, in order to cement and develop existing relationships and explore new opportunities; both key elements of our robust corporate strategy. As an industry, we are in an exciting phase of growth, with the rapid development of so many new, innovative technologies. It's vital that we, as a techco leader, remain at the forefront of this development and, in turn, share our own experiences for the benefit of our industry and customers."
Ooredoo Group signed a number of new partnerships, as well as extensions of existing partnership agreements, at Mobile World Congress 2023.
The Group expanded its partnership with Microsoft, enabling its operating companies to provide their business customers with additional cloud services, either individually or bundled with Ooredoo's connectivity services. The partnership, which will be rolled out throughout 2023, will encompass all of Ooredoo Group's operating companies and will consolidate Ooredoo's position as a one-stop-shop for connectivity solutions and services and for third-party, cloud-based solutions and services.
Two agreements were also signed with Huawei, the first of which will see the ICT leader adopt Huawei's advanced technologies and latest wireless solutions - including 5G - in Kuwait, Oman, Iraq, and Tunisia, in an effort to upgrade networks and deliver an enhanced network experience for end users.
The second partnership with Huawei will enable the provision of a Mobile Fintech platform to markets across the Ooredoo Group global footprint. Under the agreement, the two entities will cooperate for Ooredoo to provide state-of-the-art, mobile-first financial services on Huawei's platform for both consumers and merchants in Ooredoo's markets.
Ooredoo Group's existing relationship with ZTE was extended by the, incorporation of  two agreements. The first agreement encompasses network modernisation for Ooredoo Algeria, where ZTE has been awarded RAN and IP business, while under the second agreement, ZTE qualified as a Group supplier for battery products, including new battery technologies such as lithium-ion.
A new partnership with Nokia will see Ooredoo networks enhanced in Algeria and Tunisia. Under the new agreement, Nokia will upgrade its existing radio access networks (RAN) as well as deploy new sites across Algeria and Tunisia, enabling Ooredoo to improve network performance for its customers in those markets and prepare for the future launch of 5G services.
Several of Ooredoo Group's operating companies also signed new agreements and partnerships during the event, as well as participating in key sessions.
Ooredoo Qatar took centre stage in a webinar hosted by Mobile World Live and GSMA Intelligence, following publication of a report issued by GSMAi on the phenomenal telecommunications success of FIFA World Cup Qatar 2022™. Thani Al Malki, Chief Business Officer at Ooredoo, featured on a panel of industry leaders examining how the tournament tested the power and potential of 5G and set new benchmarks that will shape future 5G-enabled events.
A number of new partnership agreements were signed by Ooredoo Qatar during the event, as well as extensions of existing partnerships, with leading industry names such as Samsung, Starlink and ZTE. Ooredoo was also named Huawei Partner of The Year for IdeaHub sales, while its networks received the highest of accolades from industry network benchmarker umlaut – part of Accenture, being ranked first in Qatar for both mobile and fixed network services.
Ooredoo Tunisia confirmed a partnership with Comviva that will see Ooredoo Tunisia deploy Comviva's flagship MobiLytix™ Marketing Studio platform, supported by data science services, to leverage real-time customer interaction data in conjunction with a rich unified customer profile to enable real-time, contextual digital experience across all customer touchpoints.
Indosat Ooredoo Hutchison signed several partnerships at MWC 2023 aimed at enhancing its customer offering and its network and services in Indonesia. A partnership with Cisco will see the enhancement of IoT connectivity and the introduction of sustainable technologies to the country, while an agreement with Huawei will scale up SRv6 Joint Innovation to further drive Indonesia's digital transformation. In addition, the company collaborated with ZTE to explore next generation 5G transport network construction and accelerate fibre and intelligent network transformation, upgrading the digital experience of over 100 million Indosat's customers in Indonesia.
Furthermore, a strategic partnership between Indosat and GSMA will increase the country's environmental and economic resilience with mobile-led mitigations for climate change issues, and the operating company also joined forces with Nokia to support Indonesia's digital transformation agenda with a private wireless agreement.
Aziz concluded: "We were delighted to connect with so many industry leaders at this invaluable event. We have a strategic commitment to upgrading our customers' worlds, and these partnerships will enable us to enhance our offering. We are excited to see what the future holds with both our existing and new partners, and extend our thanks to the organisers of Mobile World Congress for facilitating these opportunities."
Mobile World Congress 2023 was held from 27 February – 2 March 2023 at the Fira Gran Via in Barcelona, Spain, attracting the biggest names in the ICT and telecommunications industry. Key themes for this year's event were 5G Acceleration; Reality+; OpenNet; Fintech; and Digital Everything.
-ENDS-
 About Ooredoo
Ooredoo is an international ICT provider operating across the Middle East, North Africa and Southeast Asia. Serving consumers and businesses in nine countries, Ooredoo delivers a leading data experience through a broad range of content and services via its advanced, data-centric mobile and fixed networks.
Ooredoo generated revenues of QAR 23 billion as of 31 December 2022. Its shares are listed on the Qatar Stock Exchange and the Abu Dhabi Securities Exchange.