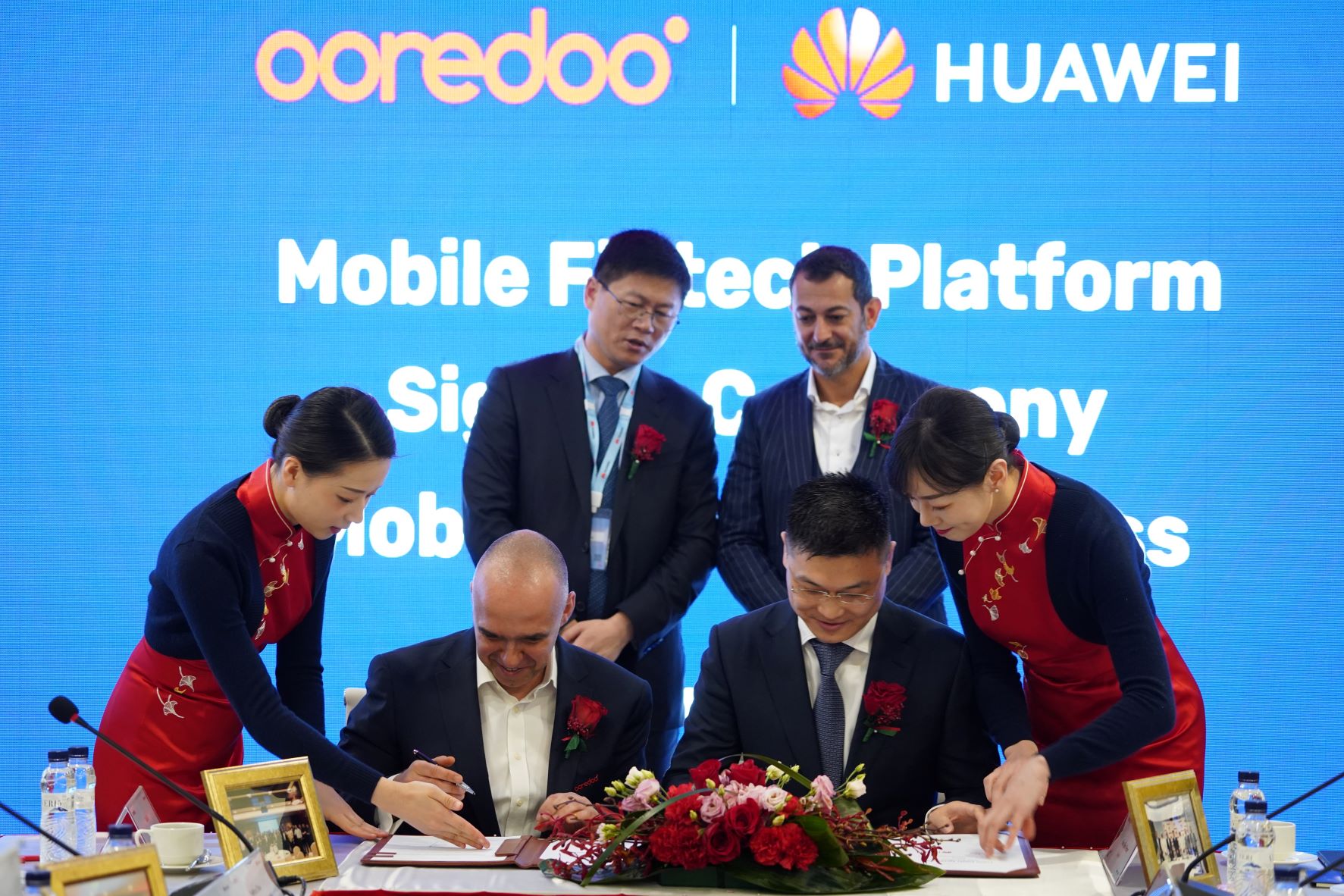 Ooredoo Evolves Fintech Services in Footprint Markets, Partners with Huawei at MWC 23
Latest partnership to see Huawei provide its Fintech/Mobile Money platform to Ooredoo's operating companies
Ooredoo Group has signed a partnership agreement with Huawei to leverage their Mobile Fintech platform to provide Fintech services in markets across the company's footprint.
Ooredoo has already a strong position in Fintech in Qatar that represents a 35% market share of the overall mobile money transaction value in the MENA region, based on a 2022 GSMA study for the MENA market.
Under the agreement, the two entities will cooperate for Ooredoo to provide state-of the art, mobile-first financial services on Huawei's platform for both consumers and merchants in Ooredoo's markets.  
The cooperation agreement was signed at Mobile World Congress 2023, the world's biggest and most influential connectivity event that took place from 27 February – 2 March 2023 at the Fira Gran Via, Barcelona.
Aziz Aluthman Fakhroo, Managing Director and Group CEO at Ooredoo Group, said: "A key pillar of our strategy is evolving our core, and this includes identifying new use cases and exploring new businesses in our immediate industry adjacency such as Fintech, where Ooredoo has already established successful operations in our home market Qatar. Our plan in 2023 is to evolve our Fintech marketplace to other markets within our footprint, enabling us to simplify everyday financial transactions and drive financial inclusion. This new partnership agreement with Huawei will solidly underpin our efforts in this field."
Fintech increasingly provides consumers and merchants across the globe with easy access to a broad ecosystem of financial services, from remittance services to microcredits or insurance services at attractive and very competitive rates. Latest statistics from industry organisation GSMA indicate that Mobile Money - as a key element of Fintech - has hit a milestone of $1 trillion in global transaction value, and is increasingly considered integral to the growth of local economies. Based on the GSMA study, Ooredoo is assumed to have, in the MENA region, a share of about 35% of the transaction value in Mobile Money and will progress its business further in the region with this new partnership agreement.
Li Peng, President of Carrier BG at Huawei said: "This agreement is an important step forward to foster our long-term strategic partnership with Ooredoo. Huawei is committed to providing industry-leading technology with purpose, that will ensure the realisation of this project and help Ooredoo achieve business success."
Huawei is an industry leader with innovative Fintech/MFS solutions serving more than 400 million mobile finance users globally. Its MFS platform has been named an established leader in the Digital Money Transfer & Remittances Platform Providers Leaderboard by global advisory and research firm Juniper Research.
-ENDS-
About Ooredoo
Ooredoo is an international ICT provider operating across the Middle East, North Africa and Southeast Asia. Serving consumers and businesses in nine countries, Ooredoo delivers a leading data experience through a broad range of content and services via its advanced, data-centric mobile and fixed networks.
Ooredoo generated revenues of QAR 23 billion as of 31 December 2022. Its shares are listed on the Qatar Stock Exchange and the Abu Dhabi Securities Exchange.