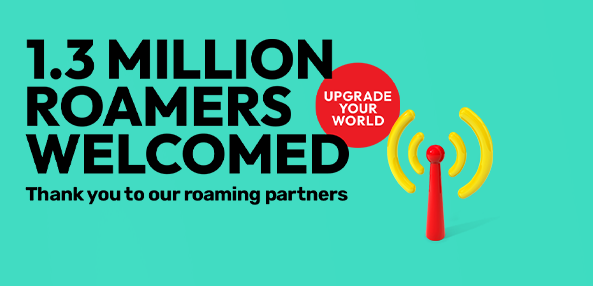 Guests From 500+ Partner Networks Across Globe
Surge in Roaming Traffic up to 269%
Welcomed 1.3 Million Roaming Fans on the Qatar Network
Ooredoo – the Official Middle East & Africa Telecommunications Operator of FIFA World Cup Qatar 2022TM - has expressed its gratitude to the many roaming partners with whom it worked to ensure the success of the event from a telecommunications perspective.
Statistics show Ooredoo Qatar welcomed a whopping 1.3 million people on its roaming network while attending the FIFA World Cup Qatar 2022TM, a figure made possible by the numerous partners with whom Ooredoo signed contracts in preparation.
Ooredoo welcomed roaming guests from more than 500 partner networks across the world, with more than 90 networks experiencing the company's 5G speeds to radically transform visitors' connectivity experience. The surge in roaming traffic ranged from 140% up to a phenomenal 269%.
Sheikh Mohammed Bin Abdulla Al Thani, Deputy Group CEO and CEO of Ooredoo Qatar, said: "We are proud of the telecommunications experience we are offering during the FIFA World Cup Qatar 2022TM, and extend our sincere thanks to all the network partners with whom we have collaborated to enable this success and ensure seamless connectivity. With visitors from all across the globe, it was vital that we were able to make sure they could stay connected as they do at home and share their World CupTM experience with friends and loved ones."
Roaming usage was highest from countries neighbouring Qatar, such as GCC countries and India, and countries participating in the tournament, including Argentina, the USA and Brazil.
Sheikh Mohammed added: "We were delighted to be recognised by many of our partners and renowned industry bodies for our efforts to ensure an upgraded fan experience with uninterrupted roaming connectivity for our visitors. We are proud to have lived up to expectations, delivering an experience befitting our prestigious status as Official Middle East Telecommunications Operator of FIFA World Cup Qatar 2022TM."
-ENDS-
About Ooredoo
Ooredoo is an international communications company operating across the Middle East, North Africa, and Southeast Asia. Serving consumers and businesses in 10 countries, Ooredoo delivers leading data experience through a broad range of content and services via its advanced, data-centric mobile and fixed networks.
Ooredoo generated revenues of QAR 30 billion as of 31 December 2021. Its shares are listed on the Qatar Stock Exchange and the Abu Dhabi Securities Exchange.