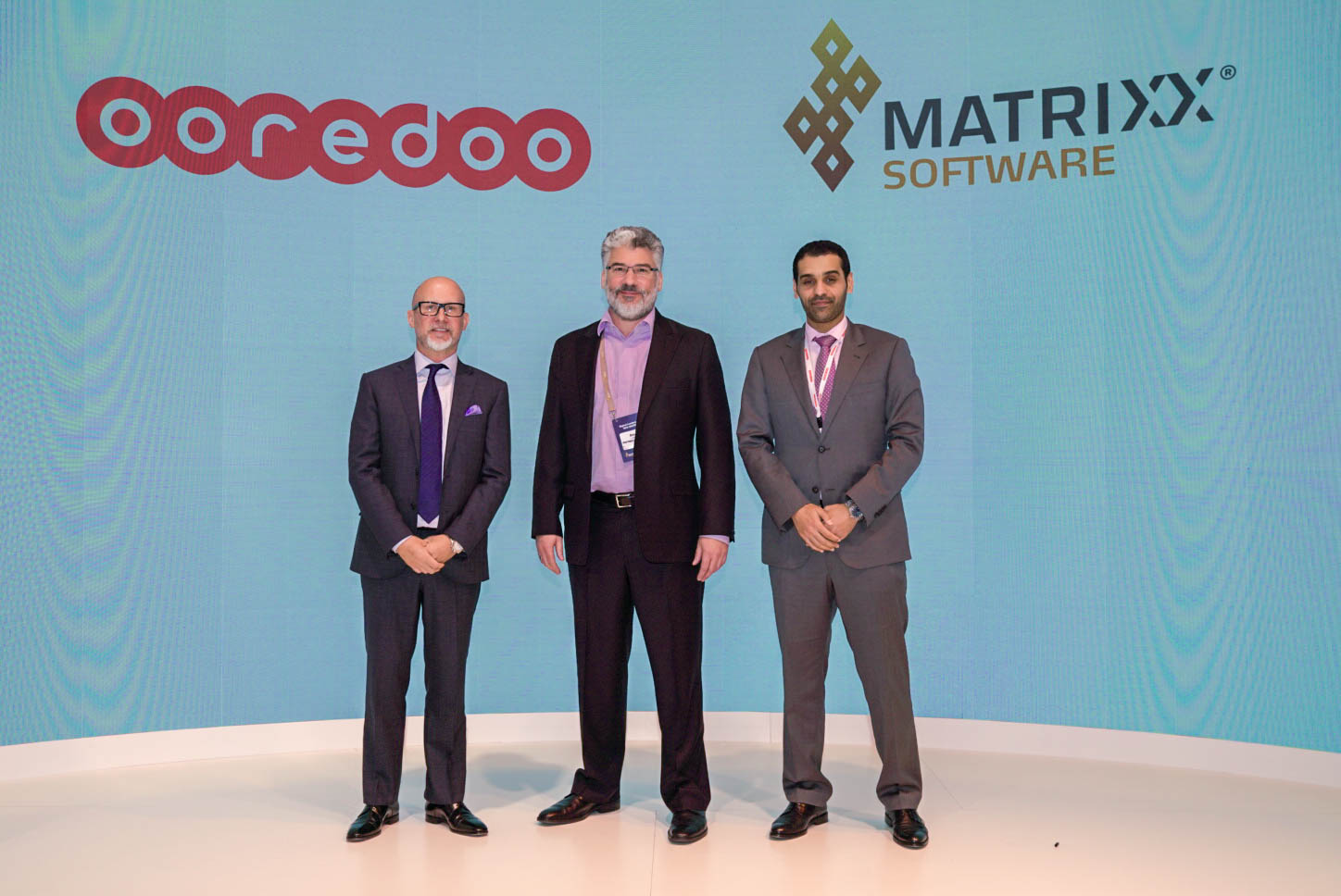 Ooredoo Kuwait and Ooredoo Oman are the First to provide personalized mobile plans to Enrich Customers' Digital Lives
Barcelona, Spain
Ooredoo, one of the world's leading ICT providers, announced today at Mobile World Congress, a partnership with MATRIXX Software, a Silicon Valley-based company whose MATRIXX Digital Commerce Platform is reinventing global business, to digitally transform the mobile experience for millions of mobile customers in Kuwait and Oman.
Ooredoo Kuwait has launched 'ANA', giving customers complete control of their mobile plans, and the freedom to choose and customise the digital package that fits their needs. In Oman, Ooredoo has expanded its successful Shababiah digital service to include postpaid mobile services, all powered by Matrixx, which specialises in helping mobile customers buy, manage, share and pay for digital services.
Both Ooredoo Kuwait and Ooredoo Oman are the first operators in their markets to launch such services, which provides an all-digital, individually customised mobile product that gives customers complete control of their mobile plans and digital worlds, and makes it easier to buy, use and pay for Ooredoo services directly from their mobile phones.
Sheikh Saud Bin Nasser Al Thani, Group Chief Executive Officer, Ooredoo, said: "In line with the MWC theme of 'Intelligent Connectivity,' our new digital mobile services in Kuwait and Oman enrich our customers digital experiences with the freedom to choose and customise the digital package that fits their needs through features like eSIM, roaming and booster packs. Oman and Kuwait customers can create their own mobile number, make appointments, track health, pay bills, and much more. We are proud to push the digital experience boundaries for our customers, bringing the best of Silicon Valley through our partnership with Matrixx."
The launch of these new services reiterates Ooredoo's position as a regional leader in digital transformation, having spearheaded many pivotal initiatives, such as the introduction of the first eSIM in Kuwait, and ground-breaking 5G trials. Combined with Ooredoo's award-winning superfast networks, these new services from Ooredoo Kuwait and Ooredoo Oman will further enhance customers' enjoyment of digital services.
Ooredoo is keen to use ANA and Shababiah to help empower a growing population of young, digital-savvy customers with the latest technology, in line with the wider digital transformation plans such as New Kuwait 2035 and Oman Vision 2040.
Dave Labuda, Founder, CEO and CTO, MATRIXX Software, said: "We are honored to partner with Ooredoo as it leads digital transformation in Kuwait and Oman. It is increasingly important for mobile operators to be able to offer their customers transparency, creativity and control. We are proud to have our MATRIXX Digital Commerce platform at the core of Ooredoo's commitment to enriching their customers' digital lives."
Visit the Ooredoo pavilion in Hall 2H60 at MWC19 at Fira Gran Via, Fira Montjuïc and La Farga L'Hospitalet, Barcelona.
For more details about the service, please visit the Ooredoo website at www.ooredoo.com.
-END-
About Ooredoo
Ooredoo is an international communications company operating across the Middle East, North Africa and Southeast Asia. Serving consumers and businesses in 10 countries, Ooredoo delivers the leading data experience through a broad range of content and services via its advanced, data-centric mobile and fixed networks.
Ooredoo generated revenues of USD 8.2 billion as of 31 December 2018. Its shares are listed on the Qatar Stock Exchange and the Abu Dhabi Securities Exchange.
LinkedIn: www.linkedin.com/company/ooredoo-group/
Twitter: www.twitter.com/ooredoo
Facebook: www.facebook.com/ooredoogroup
Instagram: www.instagram.com/ooredoogroup
YouTube: www.youtube.com/ooredoogroup
Website: www.ooredoo.com