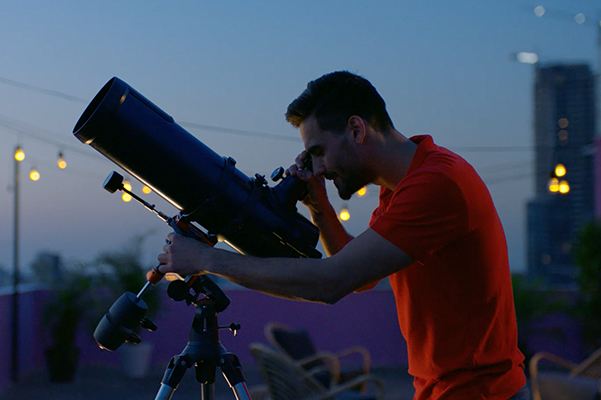 Commercial Portraying #RamadanMoments and Traditions to be Screened throughout the Holy Month
Doha, Qatar
Ooredoo has launched a special Ramadan campaign today, with a new commercial that celebrates the traditions of the Holy Month and the spirit of togetherness that people now enjoy as part of their daily digital lifestyles.
The commercial shows how people can enjoy the internet in a way that is personal and unique to each one of them, as well as highlights how technology can enrich people's digital lives, allowing them to live new precious moments and providing new opportunities to bring families and friends closer together during this special time of year.
Sheikh Saud Bin Nasser Al Thani, Group Chief Executive Officer, Ooredoo, said: "We are investing heavily in building the best possible networks across our markets, which enables our customers around the world to access and enjoy the best of the internet, share their best #RamadanMoments, and use online technology for good during the Holy Month."
As part of its campaign, Ooredoo has also launched an online multinational survey, covering five of the company's markets in the Gulf and North Africa, to explore behavioural patterns during the Holy Month. The results of this first-of-its-kind survey will be used to map online activity and content preferences during Ramadan, which will enable Ooredoo to further refine its portfolio of digital options created especially for the Holy Month.
"Technology can help us develop and expand our relationships and reflect on the important things in our daily lives. This campaign is all about showing how, with Ooredoo's support, people can adapt and evolve their digital lifestyles to connect with families, friends and with the spiritual side of Ramadan," added Sheikh Saud Bin Nasser Al Thani.
Ooredoo's new Ramadan commercial was designed to demonstrate how people in different countries enjoy the internet and illustrate the common themes that unite different communities.
The new commercial can be watched on all Ooredoo social media channels from the first day of Ramadan.
About Ooredoo
Ooredoo is an international communications company operating across the Middle East, North Africa and Southeast Asia.  Serving consumers and businesses in 10 countries, Ooredoo delivers the leading data experience through a broad range of content and services via its advanced, data-centric mobile and fixed networks.
Ooredoo generated revenues of QAR 33 billion as of 31 December 2017. Its shares are listed on the Qatar Stock Exchange and the Abu Dhabi Securities Exchange.