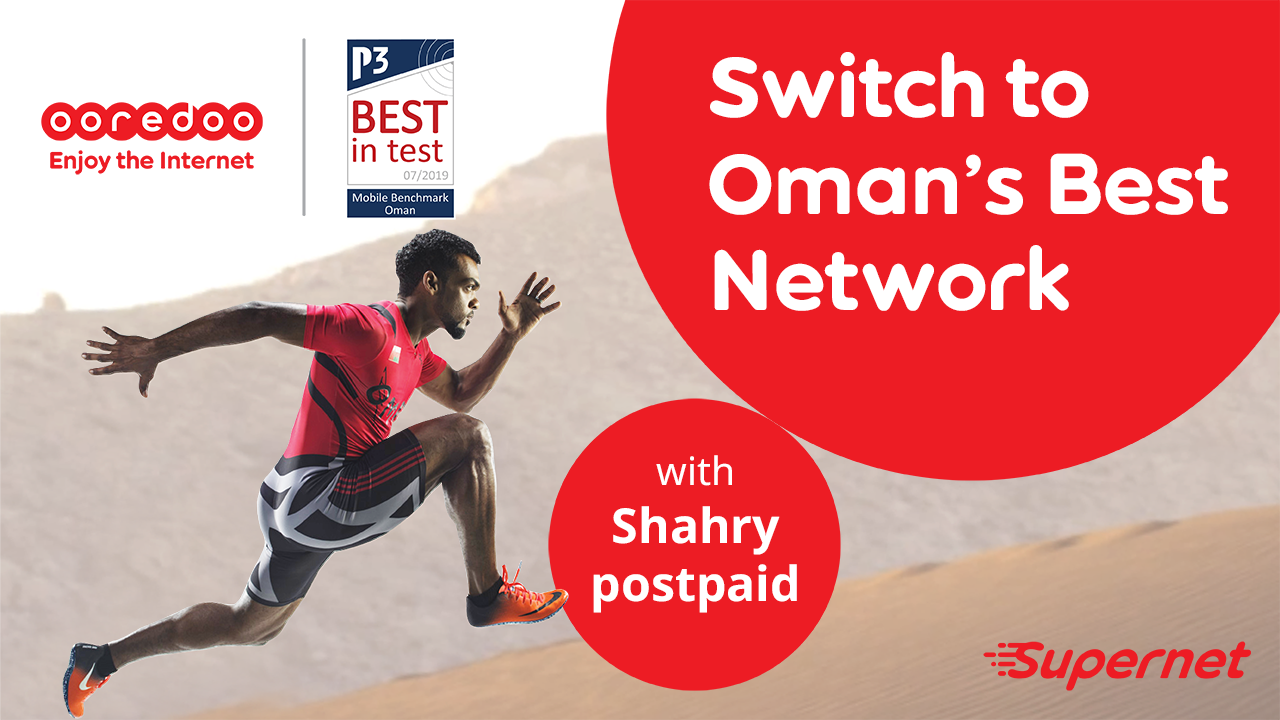 Muscat, Oman
Ooredoo has been named Oman's "best in test" operator by P3, the global leader in benchmarking and testing for mobile networks. The data experience leaders, also won 'best rated coverage for data', 'best rated coverage for 4G', 'best rated user upload speed' and 'best coverage for voice'.
Feras bin Abdallah Al Sheikh, Consumer Director at Ooredoo, said, "We aim to enrich our customers' digital lives across Oman and this P3 award is testament to our investment and network performance. Customers' expectations are constantly growing, with increasing data use and rising speeds, and our Supernet network is delivering. We will continue to develop in order to continually provide the best, digital first, customer experience."
Frequently testing mobile networks in more than 120 countries in the world, the P3 methodology is globally acknowledged as the de-facto industry standard. For Oman, the analysis was based on a unique crowd source data set of 16.1 million samples collected from 12,200 consumers while using their smartphones over a six-month period.
"For the first time we have assessed the Oman infrastructure. With 890 score in total Ooredoo leads the field, especially in the 4G coverage and the upload speed performance. Overall, Ooredoo is showing a very good customer experience in all tested categories. In international comparison these results are remarkable and are showing that the operator is continuously investing in their network and new mobile technologies," commented Hakan Ekmen, Chief Executive Officer of P3 Telecommunication.
Ooredoo continues to enhance its network speed, quality and coverage, giving customers better streaming, surfing, sharing, chatting and snapping, with seamless connectivity across Oman. The telecoms company offers host of innovative, digital, tailor-made products and services with a range of plans and contracts to suit the needs of every kind of customer, helping them to enjoy the internet.
–ENDS –
Notes to the editors
About Ooredoo Oman
Omani Qatari Telecommunications Company SAOG ("Ooredoo") was founded and registered in the Sultanate of Oman in December 2004. Services were launched its service in March 2005, originally operating under the name Nawras.  As Oman's data experience leaders, Ooredoo provides individuals and businesses with cutting edge digital products and services, so that customers can enjoy the internet. Ooredoo generated revenues of OMR 283.6 million as of 31 December 2018 and is listed on the Muscat Stock Market (MSM) under the "ORDS" ticker.
Website: www.ooredoo.om
Twitter: www.twitter.com/OoredooOman
Facebook: www.facebook.com/OoredooOman
Instagram: www.instagram.com/OoredooOman
YouTube: www.youtube.com/OoredooOman
Snapchat: Ooredoo_Oman

About Ooredoo
Ooredoo is an international communications company operating across the Middle East, North Africa and Southeast Asia. Serving consumers and businesses in 10 countries, Ooredoo delivers the leading data experience through a broad range of content and services via its advanced, data-centric mobile and fixed networks. Ooredoo generated revenues of USD 8.2 billion as of 31 December 2018. Its shares are listed on the Qatar Stock Exchange and the Abu Dhabi Securities Exchange.
Website: www.ooredoo.com | LinkedIn: www.linkedin.com/company/ooredoo-group/  | Twitter: www.twitter.com/ooredoo | Facebook: www.facebook.com/ooredoogroup | Instagram: www.instagram.com/ooredoogroup | YouTube: www.youtube.com/ooredoogroup   
About P3
P3 is a leading international consulting, engineering and testing services company with a rapidly growing team of more than 4,000 consultants and engineers working to develop and implement innovative solutions to today's complex technology challenges. P3 posts a turnover of more than 350 million Euro. Offering a broad portfolio of services and proprietary tools to the automotive, aerospace, telecommunications and energy industries, P3 adds tangible value that helps clients succeed at every stage, from innovation to implementation.
In the telecommunications sector, P3 communications provides independent technical and management consulting services including network planning, end-to-end optimization, security, QoS and QoE testing, international benchmarking, device testing and acceptance services. P3 addresses all industries with connectivity needs reckoning among their clients' network operators, equipment vendors, device manufacturers, public safety organisations and regulatory authorities around the world. For more information, please visit www.p3-group.com
For further information, please contact:
Emily Shotter                                                                             
Sudipta Dasgupta
Department Head – External Public Relations
TRACCS Public Relations
e-mail:

[email protected]

e-mail:

[email protected]

+968 9510 8302
+968 94558787