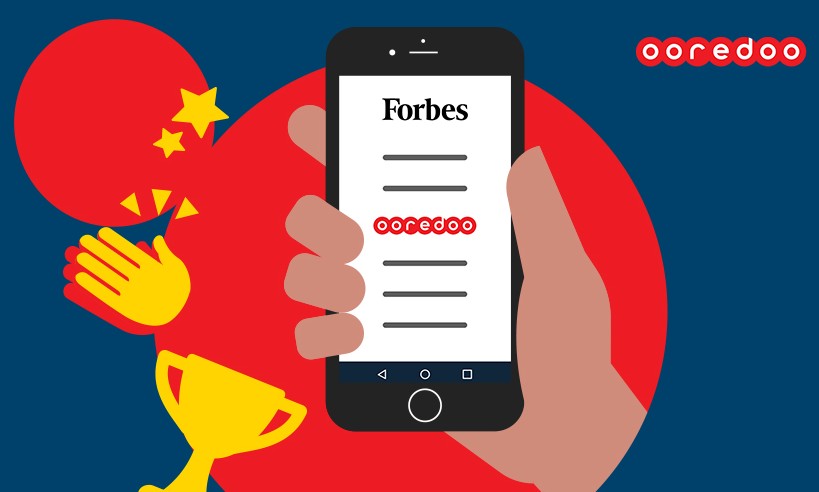 Excellent performance earns Ooredoo a placement in hugely reputable list of region's high-growth companies, alongside recognition as a Top 3 regional telco
Ooredoo Group was honoured recently when Forbes, the prestigious global business brand founded in 1917, published its listing of the leading 100 enterprises in the region. Ranked 25th, Ooredoo Group is in the top quarter of all MENA-based enterprises, thanks to the efforts of its companies across the Middle East, North Africa and South East Asia.
Targeting an audience of business leaders and influencers, Forbes promises 'Global 2000 Highlights', by taking readers 'Inside the Numbers of the World's Largest Public Companies'. From this perspective, the magazine also profiles Ooredoo at the end of March 2020 as one of the top three regional telecommunications operators, with sales worth $8.2 billion and profits of $611 million.
Reflecting upon this news, Sheikh Saud Bin Nasser Al Thani, Group Chief Executive Officer, Ooredoo, said: "This latest accolade reflects our phenomenal growth and vision. We have taken giant leaps since the company was founded as the Qatar National Telecom Service in 1949, with one Doha telephone exchange and a capacity of just 50 lines — as Forbes correctly deduces from its thorough overview of the region."
Forbes' commentary is framed by the economic uncertainty which has accompanied the novel coronavirus COVID-19 pandemic. Despite these difficult conditions — to which Ooredoo has developed a robust response — the Group has retained assets worth $24.2 billion and an overall market value of $5.2 billion.
Sheikh Saud Bin Nasser Al Thani added: "Our teams around the world are working together as one to enable the communities we serve by providing much needed relief measures, innovative solutions and digital services."
Forbes also notes that the group employs over 16,000 people, and has football's Leo Messi as a global brand ambassador. According to Sheikh Saud Bin Nasser Al Thani, such colleagues "exemplify Ooredoo Group's vision and values— expressed in a genuine commitment to our company's goals".
- END-
About Ooredoo
Ooredoo is an international communications company operating across the Middle East, North Africa and Southeast Asia. Serving consumers and businesses in 10 countries, Ooredoo delivers the leading data experience through a broad range of content and services via its advanced, data-centric mobile and fixed networks.
Ooredoo generated revenues of QAR 30 billion as of 31 December 2019. Its shares are listed on the Qatar Stock Exchange and the Abu Dhabi Securities Exchange.