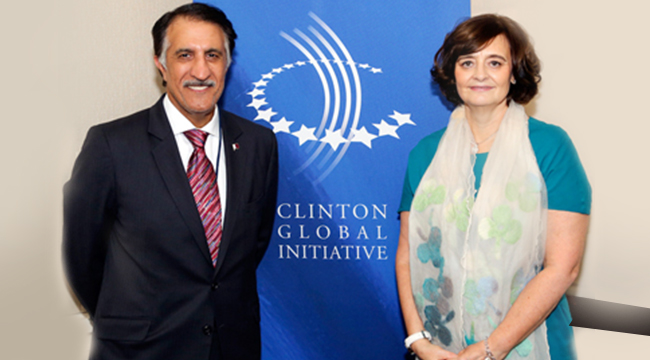 Ooredoo and the Cherie Blair Foundation for Women today announced an innovative new partnership that will extend the benefits of mobile technology to underserved communities and support women's entrepreneurship in Myanmar. The announcement was made at the Clinton Global Initiative (CGI) Annual Meeting in New York, and this initiative is a CGI Commitment to Action.
With 25% of the population living below the poverty line, there is an urgent need to engage more women in the country's economic development. As part of its vision of enriching people's lives and stimulating human growth, Ooredoo is committed to championing women and helping them realize their potential in society. The company believes that women should have equal opportunities to access mobile technology in order to be able to best advance their lives and those who depend on them. Ooredoo has developed a strong track record in this area, leveraging mobile technology to empower women across its various markets and is confident it can make an important impact in Myanmar.
Myanmar is one of the few countries in the world where mobile phones have not yet reached the masses. Less than 10% of the population have a mobile phone. Myanmar presents a unique opportunity for Ooredoo, as the company recently obtained a license to operate a mobile network in the country, and will roll out its services to the population of 60 million people.
In Myanmar, Ooredoo and the Cherie Blair Foundation for Women are developing a franchisee model to enable 30,000 women by 2016 to become entrepreneurs by selling prepaid Ooredoo airtime to their communities. Each of the women will be equipped with a business kit containing a mobile phone, promotional materials, and an operating manual. They will also receive hands-on training on how to run their businesses.
Research conducted by the Cherie Blair Foundation for Women demonstrates that women entrepreneurs can add significant value to the operations of mobile companies as agents in their retail channels, selling products such as SIM cards and mobile airtime. Selling mobile products is a flexible and easy business, making it an ideal entry point for women entrepreneurs who are able to juggle household and community responsibilities alongside selling mobile services.
The women mobile agents benefit from additional income and, in turn, tend to reinvest their profits back into their families and communities. Other advantages offered to women mobile agents include the fact that they require less start-up capital to launch such businesses and are also more trusted by other women. This means they reach a wider cross-section of society, extending the scope of their businesses and boosting their status in local communities
H.E. Sheikh Abdullah Bin Mohammed Bin Saud Al Thani, Chairman, Ooredoo, said: "Across our footprint, we seek to partner with grassroots organisations and NGOs to deliver on-the-ground support that will empower women. As we begin operating in Myanmar, we're looking to create tens of thousands of new jobs in the retail sector, with a particular focus on engaging women micro-entrepreneurs."
"Ooredoo and the Cherie Blair Foundation for Women have supported thousands of women entrepreneurs in Indonesia, and we'll use that expertise to enrich the lives of people in Myanmar. Our initiatives will not only enable women to support their families economically, but also make a distinct contribution to Myanmar's economic development."
Cherie Blair said, "Ooredoo understands the value of women's enterprise development and are doing excellent work internationally for women's empowerment. It's enormously beneficial for women and their families if they have sustainable income, so I am delighted that my foundation is partnering with Ooredoo to give women the support they need to become mobile retail agents. Our report, Women Entrepreneurs in Retail Channels, demonstrated the value of supporting more women to become mobile agents and it is wonderful that we are able to put that into practice in Southeast Asia. This project is a big step forward not just for the women involved but their families and communities who will also benefit from their success."
This partnership extends the long-lasting collaboration between the Cherie Blair Foundation for Women and Ooredoo. In Indonesia, where Ooredoo's company Indosat operates, the two organisations have seen strong success on developing the international award winning "Usaha Wanita" (Business Woman) service in partnership with Nokia and the ExxonMobil Foundation, to provide women with entrepreneurial advice through mobile technology.
Since Usaha Wanita launched in December 2012, thousands of women entrepreneurs have benefited from the service. For example, Cicih who runs a business as a bridal make-up artist, has gained marketing skills through the service. Since signing up to Usaha Wanita, she has begun printing leaflets and distributing them in her neighbourhood to help her grow her business. Through a specific programme with local social enterprise Ruma Pulsa, Indosat has also trained more than 20,000 women micro-entrepreneurs in selling Indosat airtime in underserved rural areas.
The 2013 CGI Annual Meeting was held in New York from 23-26 September. It brought CGI members together under the theme of 'Mobilizing for Impact,' and focused on involving the right people and necessary resources to drive effective action on global challenges.
About the Cherie Blair Foundation for Women
The Cherie Blair Foundation for Women provides women entrepreneurs in developing and emerging markets with the skills, technology, networks and access to finance that they need to become successful small and growing business owners, so that they can contribute to their economies and have a stronger voice in their societies. Working in partnership with local and international non-profit organisations, the private and public sector, the Cherie Blair Foundation for Women develops projects with sustainable solutions to the challenges women entrepreneurs face through three programmes: Enterprise Development, Mentoring and Mobile Technology.
About the Clinton Global Initiative
Established in 2005 by President Bill Clinton, the Clinton Global Initiative (CGI), an initiative of Bill, Hillary & Chelsea Clinton Foundation, convenes global leaders to create and implement innovative solutions to the world's most pressing challenges. CGI Annual Meetings have brought together more than 150 heads of state, 20 Nobel Prize laureates, and hundreds of leading CEOs, heads of foundations and NGOs, major philanthropists, and members of the media. To date CGI members have made more than 2,300 commitments, which are already improving the lives of more than 400 million people in over 180 countries. When fully funded and implemented, these commitments will be valued at $73.5 billion.
CGI also convenes CGI America, a meeting focused on collaborative solutions to economic recovery in the United States, and CGI University (CGI U), which brings together undergraduate and graduate students to address pressing challenges in their community or around the world, and, this year, CGI Latin America, which will bring together Latin American leaders to identify, harness, and strengthen ways to improve the livelihoods of people in Latin America and around the world.
For more information:
Visit: www.clintonglobalinitiative.org
Twitter: @ClintonGlobal
Facebook: www.facebook.com/clintonglobalinitiative