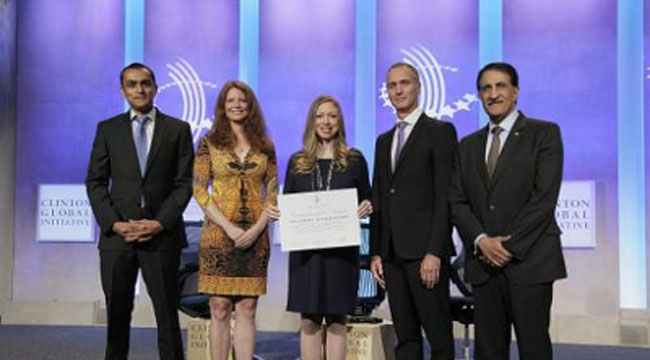 His Excellency Sheikh Abdullah Bin Mohammed Bin Saud Al Thani, Chairman, Ooredoo Group has challenged governments and industry peers to address the infrastructure challenges in bringing the next billion people online.
Some 2.3 billion people around the world now have access to the Internet, according to the UN Broadband commission, but that still leaves a huge number of people – including a disproportionate amount of women and people in the developing world – unable to access the life-enriching benefits of the online world. Ooredoo has launched a series of initiatives aimed at connecting people across its markets in Southeast Asia and the MENA region, and called on industry peers to help remove the barriers that prevent people from getting online.
"We are passionate about bringing the next billion people online. However, the vast majority of people around the globe remain disconnected due to the substantial obstacles providers are facing," said H.E. Sheikh Abdullah Bin Mohammed Bin Saud Al Thani, Chairman, Ooredoo Group.
"While telecom providers are undertaking a great challenge by building infrastructures where none currently exist, these costs are significant and excessive sector-specific taxation is an impediment to growth. It is important for mobile operators to have a level playing field. As the voice of emerging markets consumers, Ooredoo urges governments and industry peers to become more involved, recognise the benefits they will realise from the networks we are building, and help defray the costs so growth and innovation can continue," he added.
His Excellency's comments were made after the UN Broadband Commission released new country-by-country data on state of broadband access worldwide in its 2014 "State of Broadband" report.
According to the report, Qatar has second highest level of household broadband penetration (96.4 percent) of any developing country after Korea. However, other Ooredoo markets have a significant way to go – both Tunisia and Iraq currently have less than 50 percent of the population online. Ooredoo's newest market, Myanmar, had just 1.2 percent of its population online at the time that the survey was conducted.
The UN Broadband Commission reports that there are over 200 million fewer women online than men globally, underlining the significant disparity in access between men and women.
Ooredoo recently announced a number of major new initiatives at the 2014 Clinton Global Initiative (CGI) Annual Meeting in New York aimed at closing this gap. These initiatives include The Connected Women Programme with GSMA and partners, and the She Works programme with IFC and nine other companies.
With the GSMA Connected Women Programme, the GSMA will undertake studies that will offer critical insights into the socio-economic benefits of greater inclusion of women in the telecommunications sector. The findings will be used by partners – including Ooredoo – to develop initiatives and services for female consumers and employees.
In line with this commitment, Ooredoo launched Myanmar's first maternal health information app, called 'May May' (or 'mother' in Myanmar's language) last month. In addition, Ooredoo's Indosat will draw on the studies to launch new services designed for women in Indonesia. Indosat will launch a new start-up called 'Wobe', targeting lower to middle income Indonesian women with voice, data and internet services.
Ooredoo has also committed to enhance talent development across its operations, as part of a private sector partnership launched by IFC, a member of the World Bank Group, which will improve employment opportunities for more than 300,000 women over the next two years. The partnerships, called She Works, brings together 10 leading companies that will implement measures to enhance women's employment opportunities – such as mentorship programs, flexible working arrangements, and leadership training to increase diversity in management.
About the Clinton Global Initiative
Established in 2005 by President Bill Clinton, the Clinton Global Initiative (CGI), an initiative of the Clinton Foundation, convenes global leaders to create and implement solutions to the world's most pressing challenges. CGI Annual Meetings have brought together more than 180 heads of state, 20 Nobel Prize laureates, and hundreds of leading CEOs, heads of foundations and NGOs, major philanthropists, and members of the media. To date, members of the CGI community have made more than 3,100 commitments, which are already improving the lives of more than 430 million people in over 180 countries.
CGI also convenes CGI America, a meeting focused on collaborative solutions to economic recovery in the United States, and CGI University (CGI U), which brings together undergraduate and graduate students to address pressing challenges in their community or around the world. For more information, visit clintonglobalinitiative.org and on Twitter @ClintonGlobal and Facebook at facebook.com/clintonglobalinitiative.