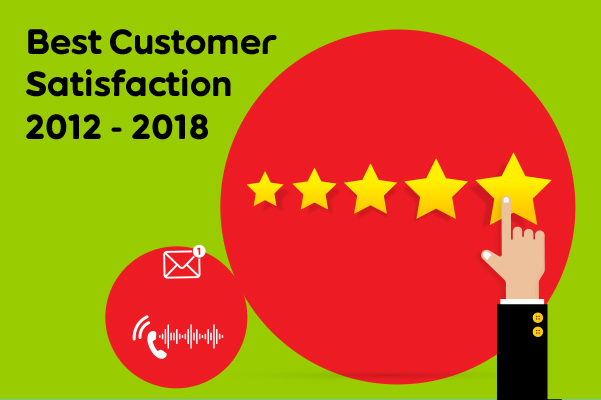 New Study By Renowned Research Firm Confirms Ooredoo's Place as Qatar's Leading Telecomunnications Company
Doha, Qatar
Ooredoo has today announced that it has been confirmed as the leading telecommunications company in Qatar for both data and voice services from 2012 to Q1 2018 by consumers in an ongoing study from an internationally-renowed research company.
A new report released by leading firm Nielsen shows Ooredoo was named as the best in 'Overall Network Quality for Voice, SMS and Data' services, based on 17,500 surveys conducted between 2012 and March 2018 with the general population of Qatar.
The company has also achieved year-on-year improvements in customer satisfaction in every year since the study began – a feat that no other competitor has been able to match.
Talking about the results, Waleed Al Sayed, Chief Executive Officer, Ooredoo Qatar, said: "Ooredoo is committed to providing the best network for voice, data and SMS for Qatar's people and these results demonstrate the consistent excellence we have delivered over the last six years and will continue to deliver in the future. We've invested heavily in our Supernet network to ensure seamless connectivity and network outperformance. Ooredoo was the first telecommunications company in the world to launch a commercial 5G network, the first to launch 4G and 4.5G services in Qatar, and we're thrilled to be strengthening the foundations of Qatar's technological infrastrucuture."
Ooredoo's Supernet has been awarded with a host of global network awards, including 'Best Operator Network' Award at theTelecom World Middle East Awards.
Recently, Ooredoo has announced 50 5G network towers are now live in Qatar – a major milestone since the launch of Ooredoo 5G in May 2018. The company has promised to continue to invest in rolling-out its 5G network to ensure Qatar is at the forefront of 5G developments and the 5G ecosystem.
For more details on Ooredoo's Supernet network and services, go to https://www.ooredoo.qa/portal/OoredooQatar/supernet.
About Ooredoo
Ooredoo is Qatar's leading communications company, delivering mobile, fixed, broadband internet and corporate managed services tailored to the needs of consumers and businesses. As a community-focused company, Ooredoo is guided by its vision of enriching people's lives and its belief that it can stimulate human growth by leveraging communications to help people achieve their full potential.
Twitter: @OoredooQatar
Facebook: https://www.facebook.com/ooredooqatar/
LinkedIn: https://www.linkedin.com/company/ooredooQatar
YouTube: https://www.youtube.com/user/OoredooQatar
Website: www.ooredoo.qa