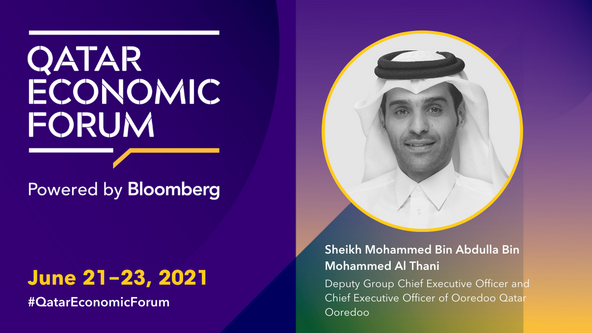 Hot Topics of Connectivity, Accelerated Digitalisation and Leveraging Technology on the Agenda at QEF Panel Discussions with Bloomberg Host
Ooredoo's Deputy Group CEO, Sheikh Mohammed Bin Abdullah Al Thani, has discussed the transformative impact of the COVID-19 pandemic on digitalisation at a panel discussion as part of the Qatar Economic Forum Powered by Bloomberg.
"Digital transformation has long been inevitable, but I would say the major change brought about by the COVID-19 pandemic situation has been the significant, transformative change in mindsets and behaviours among both the business and consumer sectors of the telecoms industry," Sheikh Mohammed said.
People overwhelmingly digitalised their behaviours during the height of the pandemic and as the effects subsided, Sheikh Mohammed noted. He cited the utilisation of e-commerce rather than traditional avenues for accessing goods and services as an example.
Commenting on his participation in the panel, Sheikh Mohammed said: "COVID-19 demonstrated how essential fast connectivity is to enable opportunities for individuals and businesses. What customers really needed from us during the pandemic was fast and reliable networks, and to easily find, buy and use our services online. And Ooredoo was ready for the challenge, thanks to years of careful investment in our networks and in our digital platforms."
Internet-enabled devices have helped people cope with the pandemic and, indeed, the telco leader has seen concrete evidence of this digitalisation of behaviours. Particularly, Ooredoo has seen a phenomenal surge in the use of its Ooredoo app and its Ooredoo Money app, the latter registering an incredible growth in the number of transactions made.
While telco operators around the world, Ooredoo included, have long had digitalisation as a core element of their strategy, Sheikh Mohammed told the panel the challenges of the COVID-19 situation had accelerated this digitalisation, as perspectives changed and both businesses and individuals moved their lives online.
Industry leaders taking part in the panel also discussed 5G's contributory role in digital transformation, and the advantages of leveraging technology to further accelerate digitalisation, but noted a challenge in sourcing the appropriate skillsets to support such digitalisation.
Sheikh Mohammed agreed Ooredoo faced the same challenges as its peers, but reiterated the Group's strategic commitment to discovering, developing and retaining the brightest talents to support its growth and development plans.
Drilling down into other challenges faced by the telecoms industry, Sheikh Mohammed highlighted Ooredoo Group's strategic approach to maximising return on investment, noting the benefits in ensuring smart CapEx, smart segmentation and the bundling of investments as an innovative solution.
The panel discussion, moderated by renowned Bloomberg columnist and opinion writer Alex Webb, was entitled Telecom Social Impact: Enabling Opportunity Through Connectivity.
Sheikh Mohammed said: "I believe sharing insights, best practice and experiences is key to progress and development, especially in such fluid times and in challenging circumstances as we all adapt to rapidly changing landscapes in our industries. A key element of our corporate strategy is digitalisation, aligned with the goals of Qatar National Vision 2030, and we are proud to be contributing to the economic and social development of our country."
Qatar Economic Forum Powered by Bloomberg, hosting Qatari and global business leaders, heads of states and policy innovators, took place from 21-23 June 2023 under the patronage of His Highness The Amir, Sheikh Tamim Bin Hamad Al Thani.
-END- 
About Ooredoo
Ooredoo is an international communications company operating across the Middle East, North Africa, and Southeast Asia. Serving consumers and businesses in 10 countries, Ooredoo delivers the leading data experience through a broad range of content and services via its advanced, data-centric mobile and fixed networks.
Ooredoo generated revenues of QAR 7.197 billion as of 1Q 2021. Its shares are listed on the Qatar Stock Exchange and the Abu Dhabi Securities Exchange.
Twitter: http://www.twitter.com/Ooredoo
Facebook: http://www.facebook.com/ooredoogroup
LinkedIn: http://www.linkedin.com/company/ooredoo
YouTube: www.youtube.com/ooredoogroup