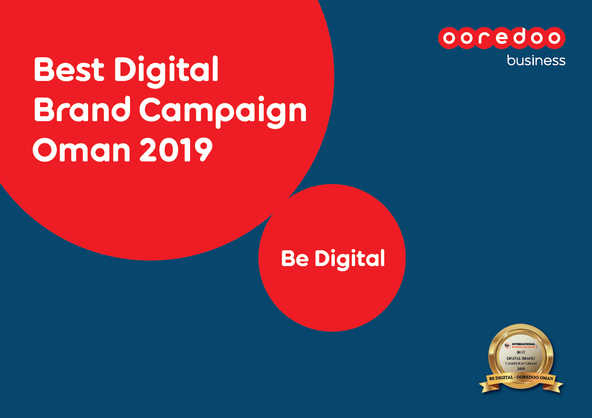 Cementing its position as a digital pioneer, Ooredoo Oman was named winner of the Best Digital Brand Campaign Oman 2019 - Be Digital at the International Business Excellence Awards. The prestigious award is testament to the company's ongoing commitment to generating awareness of the numerous digital benefits and services Ooredoo has available for businesses and organisations.
Ooredoo has customised services for companies of all sizes with efficient and cost-effective solutions that aid their journey towards digitalisation. As such, Ooredoo offers a number of services ranging from fixed, mobile and smart working solutions as well as cloud services.
Ensuring seamless connectivity amongst users, the company plans to continue to implement innovative services that not only accelerate the growth of the Internet of Things (IoT) in Oman, but also contribute to the expansion of the company's already fast and reliable network to better support the development of SMART cities.
This latest accolade joins a long list of recognitions received by Ooredoo recently including Oman Airports' Best Telecom Partner and Best Telecom Company Oman Award. To find out more about Ooredoo's new products and services, head to www.ooredoo.om, download the Ooredoo App from the Apple Store or Google Play, or visit any of the company's 58 stores across Oman.
About Ooredoo Oman
Omani Qatari Telecommunications Company SAOG ("Ooredoo") was founded and registered in the Sultanate of Oman in December 2004. Services were launched its service in March 2005, originally operating under the name Nawras.  As Oman's data experience leaders, Ooredoo provides individuals and businesses with cutting edge digital products and services, so that customers can enjoy the internet. Ooredoo generated revenues of OMR 283.6 million as of 31 December 2018 and is listed on the Muscat Stock Market (MSM) under the "ORDS" ticker.
Website: www.ooredoo.om
Twitter: www.twitter.com/OoredooOman
Facebook: www.facebook.com/OoredooOman
Instagram: www.instagram.com/OoredooOman
YouTube: www.youtube.com/OoredooOman
Snapchat: Ooredoo_Oman

About Ooredoo
Ooredoo is an international communications company operating across the Middle East, North Africa and Southeast Asia. Serving consumers and businesses in 10 countries, Ooredoo delivers the leading data experience through a broad range of content and services via its advanced, data-centric mobile and fixed networks. Ooredoo generated revenues of USD 8.2 billion as of 31 December 2018. Its shares are listed on the Qatar Stock Exchange and the Abu Dhabi Securities Exchange.
Website: www.ooredoo.com | LinkedIn: www.linkedin.com/company/ooredoo-group/  | Twitter: www.twitter.com/ooredoo | Facebook: www.facebook.com/ooredoogroup | Instagram: www.instagram.com/ooredoogroup | YouTube: www.youtube.com/ooredoogroup