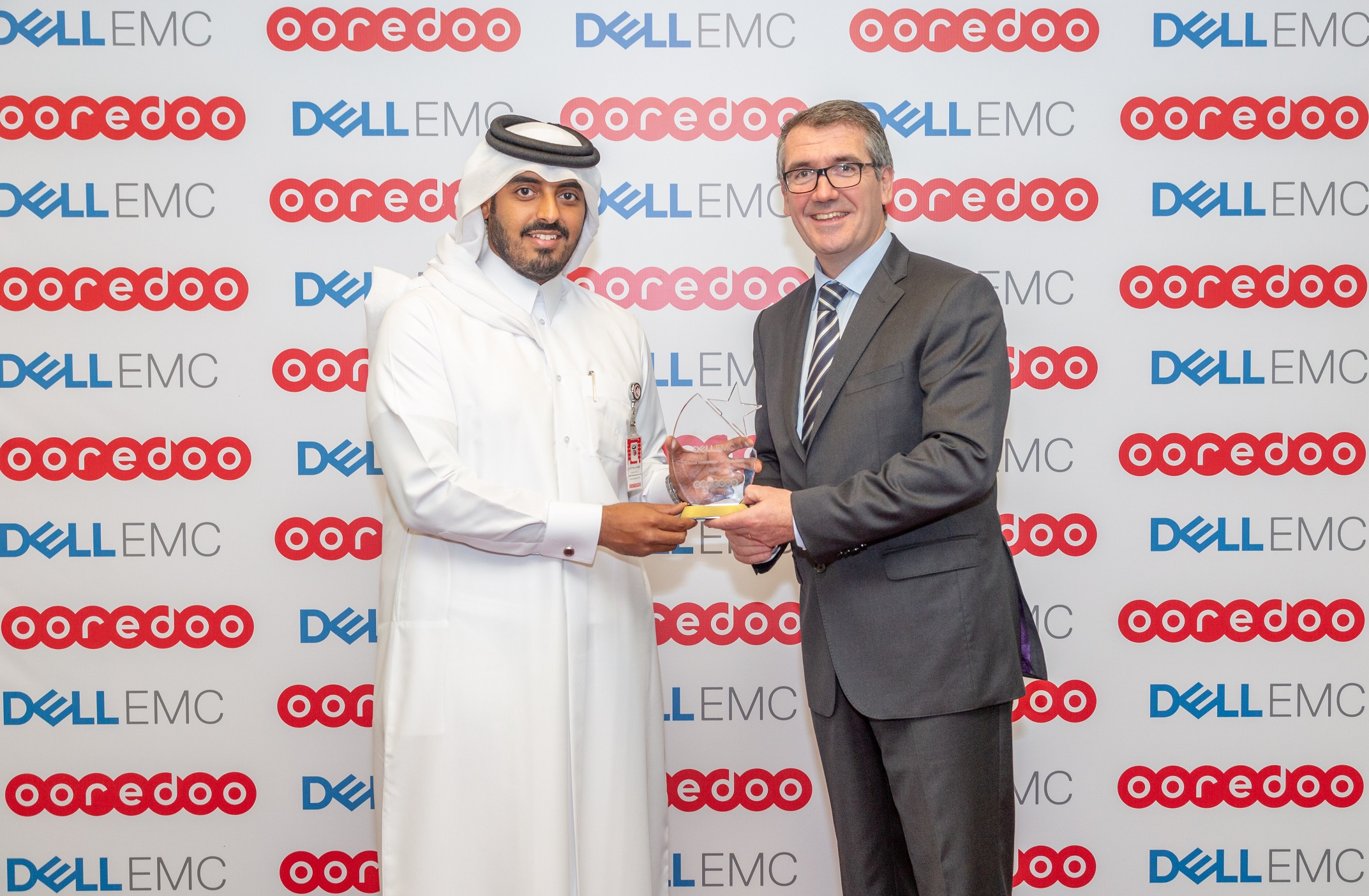 Hybrid Cloud Innovations Enable Qatar's Digital Business Transformation
Ooredoo, the region's leading enabler of digital business innovation, today announced that it has won the prestigious "Cloud Innovator of the Year" award by Dell EMC, the world's leading provider of cloud infrastructure and innovative business solutions.
Qatar's business leaders are rapidly adopting Ooredoo's hybrid cloud solutions that optimize their business applications on public and private clouds. Moving to the cloud can enable organisations to optimize costs, foster collaboration, and drive digital business innovation.
Yousuf Abdulla Al-Kubaisy, Chief Operating Officer, Ooredoo, said: "Ooredoo winning Dell EMC's Cloud Innovator of the Year Award is a remarkable achievement that underlines our responsibility to further expand our cloud service offerings to meet our business customers' needs. With Dell EMC's cloud innovations, our business customers can enhance their storage, networking, and virtualisation to scale up and succeed in the Digital Economy."
As part of the judging panel, Dell EMC praised Ooredoo for being the region's first telecommunications provider that will offer Microsoft Azure Stack hybrid cloud solutions through the Qatar Data Centre. Ooredoo is seeing strong business demand for hyper-converged infrastructure solutions that run on Azure Stack, Redhat, and VMware digital platforms.
Aongus Hegarty, President, Europe, Middle East and Africa at Dell EMC, said: "Ooredoo's Qatar Data Centre is the foundation for Ooredoo's success as a Dell EMC partner and in winning the Cloud Innovator of the Year award. Qatar's business customers are gaining new levels of agility, flexibility, and access, and will be able to scale their digital transformation to new heights and transform citizen and customer experiences across the country."
Ooredoo's award win builds on the company recently achieving the Gold-tier Cloud Service Provider status with Dell EMC. Ooredoo gains the in-depth partner training and marketing resources that allow the company to better meet the digital business needs of its customers.
Business customers can leverage the Ooredoo Advantage, making Ooredoo "Best for Business", thanks to its breadth and depth of talent, best fixed and mobile networks, broadest portfolio of ICT services and solutions, and trusted partner for 60 years.
About Ooredoo
Ooredoo is Qatar's leading communications company, delivering mobile, fixed, broadband internet and corporate managed services tailored to the needs of consumers and businesses. As a community-focused company, Ooredoo is guided by its vision of enriching people's lives and its belief that it can stimulate human growth by leveraging communications to help people achieve their full potential.
For full details of all corporate plans, pricing and offers, ring the Ooredoo business team on 800 8000 or see ooredoo.qa/business.
Dell EMC
Dell EMC, a part of Dell Technologies, enables organizations to modernize, automate and transform their data center using industry-leading converged infrastructure, servers, storage and data protection technologies.  This provides a trusted foundation for businesses to transform IT, through the creation of a hybrid cloud, and transform their business through the creation of cloud-native applications and big data solutions.  Dell EMC services customers across 180 countries – including 98% of the Fortune 500 – with the industry's most comprehensive and innovative portfolio from edge to core to cloud.
CONTACT:
Sheran Alaa
+974 40 206150