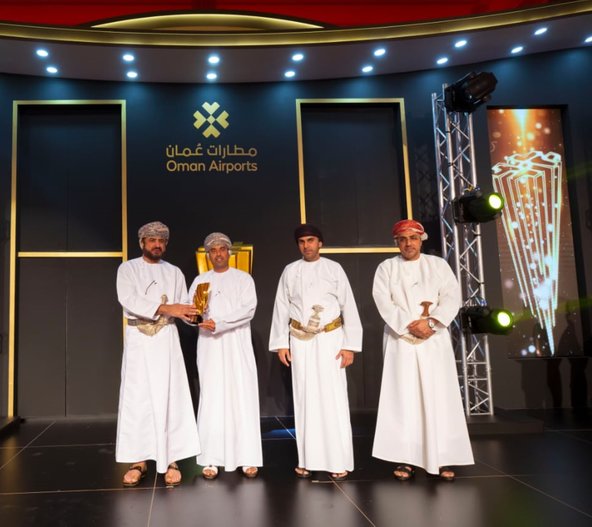 In recognition of its cutting-edge stores in Muscat and Salalah International Airports, Ooredoo Oman was awarded Oman Airports' Best Telecom Partner. During an event held at Al Bustan Palace Ritz-Carlton Hotel under the patronage of H.E. Sheikh Khalid bin Omar Al Marhoon, Minister of Civil Service, Ooredoo was commended for its state-of-the-art retail store experience starting from the unique and young design all the way to the customer-centric services it provides arriving passengers whether residents or tourists.
This latest accolade joins a long list of recognitions received by Ooredoo over the years. Today, the telecoms provider prides itself in claiming multiple local, regional and international customer service awards including Call Centre Middle East Award for the best and largest call centre, Best Telecom Company Oman Award and Most Customer Friendly Telecom Provider.
To find out more about Ooredoo's new products and services, head to www.ooredoo.om, download the Ooredoo App from the Apple Store or Google Play, or visit any of the company's 58 stores across Oman.
About Ooredoo Oman
Omani Qatari Telecommunications Company SAOG ("Ooredoo") was founded and registered in the Sultanate of Oman in December 2004. Services were launched its service in March 2005, originally operating under the name Nawras.  As Oman's data experience leaders, Ooredoo provides individuals and businesses with cutting edge digital products and services, so that customers can enjoy the internet. Ooredoo generated revenues of OMR 283.6 million as of 31 December 2018 and is listed on the Muscat Stock Market (MSM) under the "ORDS" ticker.
Website: www.ooredoo.om
Twitter: www.twitter.com/OoredooOman
Facebook: www.facebook.com/OoredooOman
Instagram: www.instagram.com/OoredooOman
YouTube: www.youtube.com/OoredooOman
Snapchat: Ooredoo_Oman
About Ooredoo
Ooredoo is an international communications company operating across the Middle East, North Africa and Southeast Asia. Serving consumers and businesses in 10 countries, Ooredoo delivers the leading data experience through a broad range of content and services via its advanced, data-centric mobile and fixed networks. Ooredoo generated revenues of USD 8.2 billion as of 31 December 2018. Its shares are listed on the Qatar Stock Exchange and the Abu Dhabi Securities Exchange.
Website: www.ooredoo.com | LinkedIn: www.linkedin.com/company/ooredoo-group/  | Twitter: www.twitter.com/ooredoo | Facebook: www.facebook.com/ooredoogroup | Instagram: www.instagram.com/ooredoogroup | YouTube: www.youtube.com/ooredoogroup