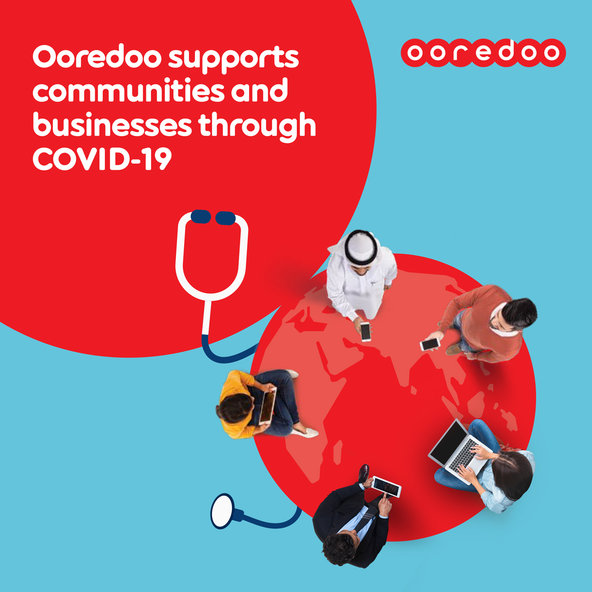 Network Optimisation and Digital Services Enable Social Distancing, Remote Working, Home Schooling and Digital Customer Experiences    
Secure and Immersive Digital Business Solutions Ensure Business Continuity
As COVID-19 (coronavirus) continues to impact communities and businesses around the world, Ooredoo Group is supporting customers across its global footprint with both digital solutions and relief measures. Ooredoo teams are working together to share knowledge and experiences internationally to better serve and support customers.
With online activity on the rise resulting in a steep surge in internet usage, Ooredoo has significantly optimised network performance and enhanced internet speeds, enabling social distancing, seamless home schooling and access to home entertainment. Engineering teams are working around the clock to ensure customers can continue to enjoy the internet despite significant pressure on the networks caused by the boom in social media usage and video consumption.
Ooredoo is also helping businesses build corporate resilience, maintain operations and ensure business continuity with a range of secure and immersive digital solutions.
The company has also taken action to ensure the safety of its employees in different parts of the world, making its innovative digital solutions available to them, as well as to businesses of all sizes striving to keep their teams safe and productive remotely.
Sheikh Saud Bin Nasser Al Thani, Group Chief Executive Officer, Ooredoo, said: "More than ever, we are conscious of the fundamental role that telcos and technology play to keep people safe and businesses running. As a community-based company, supporting employees and customers sits at the core of our culture. This is a responsibility we're taking seriously as we all work through this uncertain time.  In line with our vision of enhancing people's digital lives and enabling customers to enjoy the benefits of the internet, our teams around the world are working together as one to enable the communities we serve by providing much-needed relief measures, innovative solutions and digital services."
Helping Businesses Adapt to a Challenging Environment
Ooredoo companies in the Middle East, North Africa and Southeast Asia are offering customers an enhanced suite of remote working and digital business offerings that can enable business continuity.
In Qatar, Ooredoo's digital business experts are supporting a wide range of organisations across the country – from SOHOs and SMEs to large enterprises, across the public and private sectors – to develop remote working capabilities, unified communications and collaboration. The company is already seeing strong demand for remote working solutions, such as the Ooredoo Business Collaboration Solution and Ooredoo Conferencing, with Cisco WebEx Teams providing a simple, secure and complete set of collaboration tools.
Ooredoo Kuwait has successfully launched its first eShop for business customers and is ensuring home delivery for orders. Also, the company is currently developing a videoconferencing solution using WebEx, which will be available in the near future to further support customers.
Ooredoo Oman has provided upgrades to its business customers' data services, encouraging them to work remotely using digital platforms such as Skype for Business.
To support business customers in their efforts to work efficiently and effectively, Ooredoo Myanmar is accelerating the launch of Cisco Webex Teams and a Work-From-Home internet solution, while Indosat Ooredoo has designed a special mobile package for businesses.
In the Maldives, Ooredoo is providing Supernet Business, enabling businesses to connect their employees via high-speed broadband to work from home. This is in addition to providing private connections so that teams can securely access their intranet applications and conferencing services.
Recognising the challenging times that businesses are facing, Ooredoo has launched a relief initiative to help customers affected by COVID-19 in Palestine, Iraq and Algeria. The initiative increases payment flexibility for business customers in these countries, enabling them to continue providing services and keeping their businesses running smoothly.
Supporting Customers and Communities – Enhancing Home Connectivity and Providing Relief Assistance
 Ooredoo Group's companies are also helping minimise the spread COVID-19 by encouraging employees to work remotely, practicing social distancing in all outlets and offering online support to customers through all available digital channels.
The Group's companies around the world have launched a series of informative videos containing useful health and safety tips to raise awareness on how to stay safe with COVID-19. Ooredoo Algeria has given free access to the Algerian Ministry of Health's COVID-19 website to keep customers informed on the latest news.
In Qatar, Oman, Tunisia, Algeria, Indonesia and the Maldives, Ooredoo is reminding customers to make all transactions online or using the company's app. Ooredoo Kuwait, Indosat Ooredoo and Ooredoo Maldives are providing free delivery for SIM cards purchased online.
To further encourage people to stay at home, a number of Ooredoo companies have boosted their network performance to provide increased internet speeds to customers. Ooredoo Qatar launched its #StayAtHomeWithOoredoo campaign, offering customers free bonus data, increased Internet speeds with no extra charge and free Ooredoo content. Ooredoo Tunisia renamed its network to "Stay Home" and Ooredoo Kuwait is running its online campaign "Be safe. Be home. Be online." In Myanmar, the company has launched its "Stay calm, stay safe, stay connected" campaign and has attractive data and voice packs, enabling everyone to stay connected.
And to help parents and students with home schooling, Indosat Ooredoo, Ooredoo Oman and Ooredoo Palestine have upgraded internet subscription of educational institutions. Ooredoo Algeria has offered its customers free educational content through IQRAA and Lamsa, and is currently in talks with iMadrassa and educational institutions to explore ways the company can support students during the confinement period.
Most importantly, frontline workers are being rewarded in many countries where Ooredoo operates. Asiacell in Iraq and Ooredoo Tunisia have made substantial donations to support their governments's fight against COVID-19. In addition, Ooredoo Tunisia has set up a hotline through which customers can donate easily by sending an SMS. Ooredoo Qatar has gifted front line heroes with data and minutes for local calls. Ooredoo Kuwait has provided government teams with free internet packs and is using big data analytics to provide insights on the situation. And in the Maldives, Ooredoo is providing free internet support for government institutions and other stakeholders who are part of the national emergency response.
Sheikh Saud added: "Our utmost priority at this time will continue to be focused on the health and safety of our employees, customers, partners and the communities we serve. We're doing everything we can to continue delivering the connectivity and support our customers need during this challenging time and making sure that everyone can stay connected through our advanced networks around the world."
-END-
About Ooredoo
Ooredoo is an international communications company operating across the Middle East, North Africa and Southeast Asia. Serving consumers and businesses in 10 countries, Ooredoo delivers the leading data experience through a broad range of content and services via its advanced, data-centric mobile and fixed networks.
Ooredoo generated revenues of QAR 30 billion as of 31 December 2019. Its shares are listed on the Qatar Stock Exchange and the Abu Dhabi Securities Exchange.