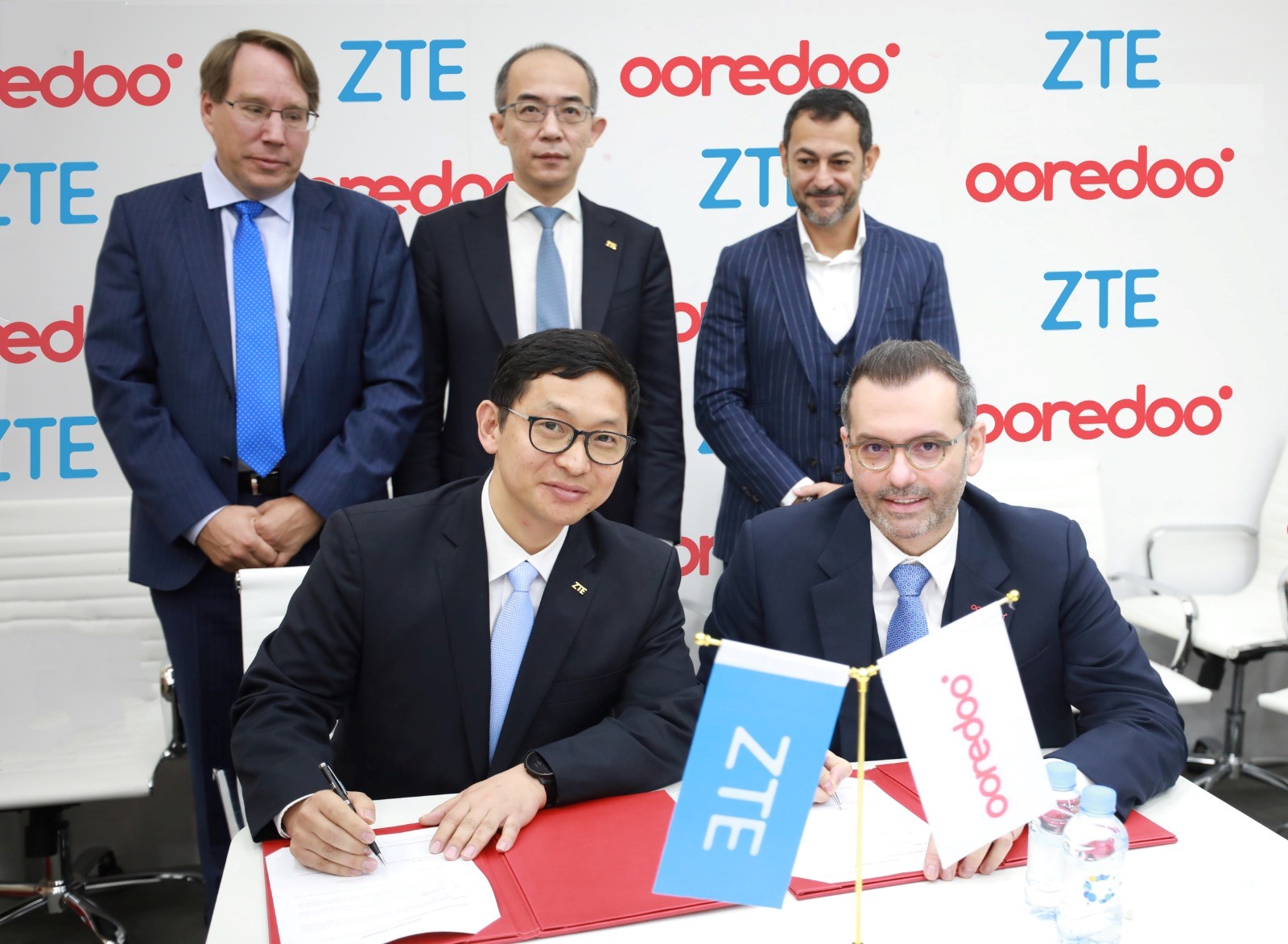 Ooredoo Group Extends Partnership with ZTE to Modernise Networks and Realise Energy Efficiencies
Two agreements to allow leading telco to access ZTE's latest 5G technology solutions, modernise network in Algeria and use energy-saving solutions
Ooredoo Group has announced an extension of its partnership with ZTE, featuring two agreements enabling the company to access ZTE's latest technology and solutions.
The partnership extension will see Ooredoo Group access ZTE's latest innovation and technology, thereby making its business more efficient, ensuring its networks are prepared for the future and enabling it – as a digital leader – to offer a second-to-none customer experience and state-of-the-art connectivity on which customers can rely.
The first agreement encompasses network modernisation for Ooredoo Algeria, where ZTE has been awarded the RAN and IP business. RAN business gains the company additional footprint, whereas IP was newly awarded. RAN business covers 2G to 4G modernisation, preparing the network for potential future 5G technology implementation.
Under the second agreement, ZTE qualified as a Group supplier for battery products, including new battery technologies such as lithium-ion, enabling Ooredoo to implement energy-saving solutions and reduce carbon emissions and costs.
Sheikh Mohammed Bin Abdulla Al Thani, Deputy Group Chief Executive Officer at Ooredoo said: "Our close collaboration with ZTE has been significant in enabling us to take the next step in technological innovation across many Ooredoo business units. In continuing to work with ZTE's leading solutions, we will be able to address new and developing markets and further transform our business."
The agreement incorporating network modernisation is intended to support Ooredoo Algeria in providing the best customer experience and ensure its business is future-proof, while that relating to battery products will enable operating companies across Ooredoo Group's global footprint to realise energy efficiencies.
Xiao Ming, Global Sales President of ZTE, said: "ZTE has a long-standing and collaborative partnership with Ooredoo. In order to accelerate Ooredoo's digital transformation, ZTE will continue to offer state-of-the-art solutions to the Opcos of the Ooredoo Group. These innovative solutions will deliver high-performance networks and a superior user experience thanks to ZTE's cutting-edge, cost-effective technology solutions."
The partnership extension was signed at Mobile World Congress, the world's largest and most influential connectivity event taking place until 2 March 2023 at the Fira Gran Via, Barcelona.
Ahmad Al Neama, Group Regional Chief Executive Officer at Ooredoo, concluded: "Ooredoo Group and ZTE have enjoyed a solid partnership for several years and we are delighted to extend our cooperation in more fields. This extension will make it possible for our businesses to continue working together on cutting-edge networks provided by one of the world's leading providers of telecommunications and information technology, to enhance the digital lives of our customers. ZTE has proven its capabilities by providing end-to-end solutions, and we look forward to developing our partnership in more areas of cooperation."
-ENDS-
About Ooredoo
Ooredoo is an international ICT provider operating across the Middle East, North Africa and Southeast Asia. Serving consumers and businesses in nine countries, Ooredoo delivers a leading data experience through a broad range of content and services via its advanced, data-centric mobile and fixed networks.
Ooredoo generated revenues of QAR 23 billion as of 31 December 2022. Its shares are listed on the Qatar Stock Exchange and the Abu Dhabi Securities Exchange.