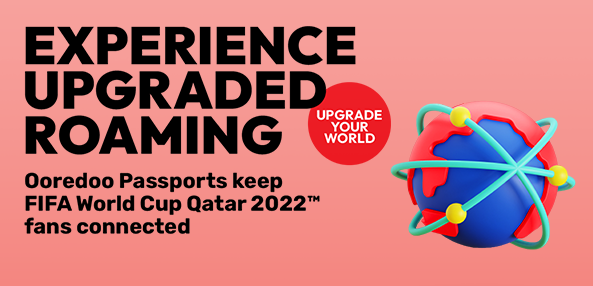 Ooredoo Passport Packages: Cost-Effective Data and Minutes Plans to Enable Visitors to Stay Connected During World's Greatest Sporting Event
Ooredoo Group has unveiled roaming benefits across its operating companies to enable travelling football fans to stay connected while attending FIFA World Cup Qatar 2022™ and to enjoy the many exciting experiences on offer in the country.
Ooredoo customers across the Middle East, North Africa and South-East Asia can sign up for one of the Ooredoo Passport or equivalent options, offering comprehensive, cost-effective packages that will ensure they can share unforgettable moments with friends and loved ones across the globe without worrying about roaming bills.
On arrival in Qatar, customers will connect to Ooredoo Qatar's pioneering network of heroes, which offers super-fast internet and crystal-clear voice calls.
An all-encompassing network modernisation drive in collaboration with global tech giants has ensured Qatar's leading telecommunications operator is more than capable of providing the necessary connectivity and reliability to ensure a vastly enhanced fan experience for all attending the FIFA World Cup™.
Sheikh Mohammed Bin Abdulla Al-Thani Deputy Group CEO and Ooredoo Qatar CEO said: "In line with our strategic commitment to upgrading our customers' worlds, we are proud to be offering the opportunity for everyone to stay connected while they attend the world's greatest sporting event, without the worry of roaming bills. As a major and groundbreaking international telecommunications provider, we have both the technology and expertise, and the internal infrastructure to ensure seamless provision of roaming services for the benefit of customers across our global footprint. We are so excited to welcome our customers and visitors to experience the Arab culture and hospitality, and proud that our country is hosting such an incredible event, and we want everyone to enjoy all the festivities and be able to share everything in real time with their loved ones back home."
Ooredoo Group companies across its global footprint are offering roaming services;  Ooredoo Kuwait, Ooredoo Oman, Ooredoo Tunisia, Ooredoo Palestine, Asiacell Iraq, Ooredoo Maldives, and Indosat Ooredoo Hutchison.
-ENDS-
About Ooredoo
Ooredoo is an international communications company operating across the Middle East, North Africa and Southeast Asia. Serving consumers and businesses in 10 countries, Ooredoo delivers the leading data experience through a broad range of content and services via its advanced, data-centric mobile and fixed networks.
Ooredoo generated revenues of QAR 30 billion as of 31 December 2021. Its shares are listed on the Qatar Stock Exchange and the Abu Dhabi Securities Exchange.