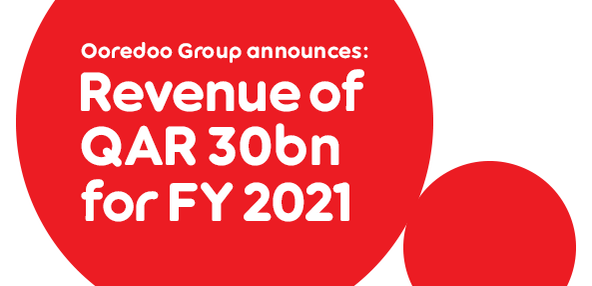 Ooredoo Q.P.S.C. ("Ooredoo") - Ticker: ORDS today announced its financial results for the year ended 31 December 2021.
Financial Highlights:
­­
Quarterly Analysis
Full Year Analysis
Q4 2021
Q4 2020
% Change
FY 2021
FY 2020
% Change
Consolidated Revenue (QAR m)
7,782
7,453
4%
29,900
28,867
4%
EBITDA (QAR m)
3,147
2,841
11%
13,050
12,088
8%
EBITDA Margin (%)
40%
38%
n/a
44%
42%
n/a
Net Profit/ Loss Attributable to Ooredoo Shareholders (QAR m)
806
(342)
n/a
47
1,126
(96%)
Normalized NP (excl. FX, tower sales and impairment) (QAR m)
643
264
143%
2,223
1,384
61%
Customers in million (consolidated)
121
120
1%
121
120
1%
­­­
Revenue for the full year ended 31 December 2021 stood at QAR 30 billion, an increase of 4% compared to the same period last year. Mainly driven by growth in our home market Qatar, Indonesia, and Tunisia. Excluding FX impact, revenue increased 7%.
Group EBITDA for the period was QAR 13 billion with a corresponding EBITDA margin of 44%, driven by growth in Indonesia, improving macroeconomic conditions in Kuwait and increased customer confidence in Algeria. The EBITDA growth rate stood at 8% and at 11% excluding FX impact.
Free Cash Flow increased by 30% to reach QAR 8.2 bn
Group Net Profit attributable to shareholders stood at QAR 47 million. The 96% reduction was mainly due to FX losses and the impairments in Myanmar. The negative impact was partly offset by profit from the sale and leaseback of Indosat Ooredoo's tower assets (QAR 1,000 million). Excluding these one-offs and FX impact, Net Profit had growth of 61%.
Consolidated customer base at year end exceeded 121 million due to strong performances in Indonesia, Oman, Algeria, and Iraq.
The Board recommends the distribution of a cash dividend of QAR 0.30 per share. This recommendation is based on healthy balance sheet, adequate liquidity, and overall solid operational performance.
Operational highlights:
On December 28, Ooredoo Group and CK Hutchison announced the approval of the USD 6.0 billion merger between the two businesses following an EGM. Vikram Sinha will serve as Chief Executive Officer of the merged entity - Indosat Ooredoo Hutchison. The transaction was closed post quarter on January 4, 2022
On May 11, 2021, regulators approved Indosat Ooredoo's sale and leaseback agreement with Edge Point Indonesia for more than 4,200 telecommunications towers. The transaction was valued at USD 750 million, making it one of the largest deals of its kind in Asia.
On November 23, Indosat Ooredoo and Google Cloud launched a strategic partnership to accelerate digitalization across consumer and enterprise segments in Indonesia.
Post period, Asiacell was named 'Fastest Mobile Network' and 'Best Mobile Coverage' in Iraq by a leading independent technology research company.
On September 30, Ooredoo Group announced title sponsorship of Qatar's first-ever Formula 1 race, officially named the 'Formula 1 Ooredoo Qatar Grand Prix'.
On November 8, Ooredoo Qatar was named as the official Middle East & Africa telecommunications operator of the FIFA World Cup Qatar 2022 and FIFA Arab Cup Qatar 2021.
Commenting on the results, HE Sheikh Faisal Bin Thani Al Thani, Chairman of Ooredoo, said:
"Ooredoo Group ended 2021 demonstrating further resilience, as we reported solid results for the end of the year, driven by the ongoing implementation of our digital transformation and cost optimisation programmes in our core markets. Revenues increased to QAR 30 billion, and our EBITDA margin improved to 44%, up from 42% for FY 2020.  We are proud to report an improvement in our free cash flow by 30%.
During 2021, we maintained our position as a digital enabler through rolling out innovative products to our customers and providing reliable connectivity across all the markets in which we operate, which subsequently resulted in increased customer confidence in our business.
We are excited about our new partnership in Indonesia, where Indosat Ooredoo Hutchison will become a stronger No.2 player, a compelling value creation in a new world-class digital telecoms and internet company for Indonesia.
Finally, I am pleased to announce that the Board will recommend the distribution of a cash dividend of QAR 0.30 per share at the annual general meeting, taking place on 8 March 2022."
Also commenting on the results, Aziz Aluthman Fakhroo, Managing Director of Ooredoo said:
"We are pleased to announce a very strong business performance with revenue growth of 4% and even stronger EBITDA growth of 8%. Our successful transformation process resulted in an impressive free cash flow of QAR 8.2 bill., an increase of 30%.
Our Net Profit increased by 61% excluding the FX impact and a one-off negative impairment in Myanmar that was partially offset by a gain from the Indonesian tower sale and leaseback transaction.
Qatar, our home market, continues to deliver strong results with growth in revenue of 6% to QAR 7.5 billion and a strong EBITDA margin of 52%.
Further roll out of the 5G network combined with innovative new product offers had a positive impact on Ooredoo Kuwait's performance with a slight increase in revenue to QAR 2.5 billion.
Ooredoo Algeria and Ooredoo Tunisia both reported top line growth in local currency terms in 2021, of 8% and 6% respectively. Ooredoo Oman's customers increased by 2%.
Asiacell was recognised as best mobile network operator in Iraq due to its rating as the fastest mobile network and the best mobile coverage by an independent third-party research company.
Finally, Indosat Ooredoo had a stellar year, with double digit growth in revenue and EBITDA. The Company reported an increase in revenue to QAR 8.0 billion and an improved EBITDA margin of 49%, driven by cost optimisation initiatives.
We look forward to reporting the further growth of the business in due course."
Operational Review
Middle East
Ooredoo Qatar
Ooredoo Qatar delivered a robust performance in 2021, boosted by Qatar's strong economy. Reported revenue was up 6% year-on-year to QAR 7.5 billion, driven by growth in post-paid services, Ooredoo tv, ICT services and increased sale of devices. Full-year service revenue grew by 5%. EBITDA was QAR 3.8 billion, 4% higher than 2020, with an EBITDA margin of 52%. Total customer numbers stood at 3.2 million.
The company continued to innovate in the entertainment space, launching its first eSports tournament as part of its new eSports brand, Ooredoo Nation – Gamers' Land. In addition, new channels and enhanced features helped to grow its Ooredoo TV customer base by 6% compared to Dec 2020.
Ooredoo Qatar joined the 5G Accelerator programme with leading technology companies to showcase Remote Video Sports Broadcasting during the FIFA Arab Cup 2021 and developed connectivity solutions for major events in Qatar such as the Formula 1 Ooredoo Qatar Grand Prix. It also announced a strategic partnership with Qatar Development Bank to support small-to-medium enterprises on their digital journey
In the first half of 2021 the Communications Regulatory Authority's Financial Sanctions Committee imposed QAR 3.5 million to Ooredoo Qatar for violating instructions issued by the CRA. QAR 2 million were fined due to Ooredoo's non-compliance with the rules applicable to access the interconnection between licensed Service Providers and QAR 1.5 million were fined due to Ooredoo's non-compliance with its obligations to file with the CRA and get the CRA prior approval for tariffs for fixed telecom services.
Ooredoo Qatar, as consortium leader, launched the TASMU Platform, a partnership with the Ministry of Transport and Communication in conjunction with an international consortium under the patronage of His Excellency the Prime Minister and Minister of Interior. TASMU targets five priority sectors namely transportation, healthcare, logistics, environment, and sports, where advanced technology and innovation will be harnessed to provide smart solutions and applications, in line with Qatar National Vision 2030.
Ooredoo Oman
Ooredoo Oman's performance was further impacted by increasing competition and the entrant of the third operator  in the market which led to a pronounced decline in revenue, with the prepaid segment being affected the most. The government-imposed lockdowns and the effects of the Tropical Cyclone 'Shaheen' resulted in a decline in revenue of 7% to QAR 2.3 billion in 2021. Consequently, EBITDA for the year declined 10% to QAR 1.2 billion compared to QAR 1.3 billion in 2020.
Ooredoo Oman's customer base increased to 2.9 million for the year ended 30 December 2021, compared to 2.8 million for the same period last year.
The company further invested in its digitalisation efforts with the launch of international money transfer service via its mobile money platform, Pay+.
Roll out of 5G continued across Oman, despite the launch of services by a third mobile network operator in the market.
Ooredoo Kuwait
The gradual lift on COVID restrictions during the quarter as well as the further stabilisation of oil prices, positively impacted the Kuwaiti economy and Ooredoo Kuwait's revenue and margins for the year. Furthermore, the company enhanced its 5G reach significantly by the end of 2021.
With this, the company reported a slight increase in revenue to QAR 2.5 billion for the year ended 31 December 2021. EBITDA increased 20%, supporting an improved EBITDA margin of 29%.
During 2021, Ooredoo Kuwait stayed committed to its customers, and the company was recognised by several global organisations for its world-class services. Accolades included the Stevie International Business Awards where the Company was awarded a Gold Stevie in the 'Mobile On-Demand Application' category for the My Ooredoo App, as well as a Bronze Stevie for Ooredoo Kuwait's volunteer program in the 'Corporate Social Responsibility Program of the Year' category. Furthermore, Ooredoo Kuwait announced that it won the title "Fastest Mobile Network" by an independent third-party research company.
Asiacell – Iraq
Asiacell reported revenue of QAR 3.7 billion during 2021, a decrease of 9% mainly due to the devaluation of the Iraqi Dinar by 18%. In local currency terms, the revenue was up 9% and EBITDA increased 13% supporting a strong EBITDA margin of 46% driven by ongoing cost optimisation initiatives.
The company witnessed a significant increase in data consumption after it extended its 4G coverage to 90% of the sites, launched 4G+ and increased LTE-enabled sites in the network. As a result, Asiacell was recognised as best mobile network operator in Iraq due to its rating as the fastest mobile network and the best mobile coverage by an independent third-party research company.
Launched towards the end of 2021, Asiacell's 'Yooz', a digital lifestyle app that offers exclusive value for the youth in Iraq, gained popularity and drove growth in customer engagement.
Asiacell's customer base increased by 9% to 15.9 million for the year ended 30 December 2021, compared to 14.7 million for the same period in 2020.
North Africa
 Ooredoo Algeria
Ooredoo Algeria continued to demonstrate resilience during 2021, despite a challenging market environment. Despite the continued devaluation in the Algerian Dinar, Ooredoo Algeria reported strong numbers. Revenues stood at QAR 2.3 billion in 2021, which was up by 8% in local currency terms. EBITDA increased by 6% to QAR 786 million compared to QAR 744 million in 2020.
Customer base increased by 2% to 12.8 million in 2021 compared to 12.5 million in 2020.
Ooredoo Algeria's digital prepaid offer, 'Yooz' which targets Algerian youth and helps them personalise data plans virtually, had more than 250,000 downloads by year-end. Ooredoo Algeria's network site availability stood at 99%, further improving the customer experience.
Ooredoo Tunisia
Despite challenging macroeconomic conditions, Ooredoo Tunisia remained resilient and maintained its solid financial position by reporting revenue growth of 7% to QAR 1.6 billion, compared to QAR 1.5 billion the previous ye
EBITDA decreased to QAR 625 million, down 4% compared to the same period last year mainly due a transformation program which was implemented in Q4.
As part of the company's commitment to expand its digital proposition, Ooredoo Tunisia launched "Do" in 2021, the first digital offer in the market with a fully integrated digital customer experience, attracting almost 300k customers.
Ooredoo Tunisia's customer base now stands at 6.9 million.
Asia 
Indosat Ooredoo
Indosat Ooredoo reported solid results and continued to outperform the market in 2021. Revenue increased by 14%, supported by an increase in EBITDA of 22% to QAR 3.9 billion, driven by solid top line growth and ongoing cost optimisation initiatives.
The Company broadened its roll out of 5G in two major cities in Q4 – Makassar and Balikpapan. The successful network roll-out and capacity expansion resulted in nearly 9,000 4G and 35 5G base transceiver stations (BTS) by year-end.
Indosat Ooredoo's relentless focus on customer experience and simple products and pricing continue to boost the customer base growth at 6%.
Indosat Ooredoo Hutchison (IOH)
 In January 2022, Ooredoo and CK Hutchison concluded the approved merger of Indosat Ooredoo and Hutchison 3 Indonesia ("H3I"). The merged entity - Indosat Ooredoo Hutchison - will be a stronger number two telco operator in the market and build on the complementary strengths of both companies.
The transaction has a combined pre-synergy implied enterprise value of approximately USD 6.0 billion. Annual run rate pre-tax synergies of approximately USD 300-400 million are expected to be realized over 3-5 years, mainly from decommissioning 25-30% of the combined sites.
Indosat Ooredoo Hutchison remains listed on the Indonesian Stock Exchange and is jointly controlled by Ooredoo Group and CK Hutchison via Ooredoo Hutchison Asia – both financially strong shareholders committed to driving growth in the Indonesian telecoms industry.
Vikram Sinha, former Chief Operating Officer of Indosat Ooredoo, has been appointed as Chief Executive Officer.
Ooredoo Myanmar
In addition to the proclamation of a one-year State of Emergency in February 2021, the Myanmar Ministry of Transport and Communications (MoTC) instructed operators to limit telecom services. In the second half of the year data service have resumed and performance improved.
The Company reported 9% decline in revenue to QAR 1.1 billion impacted by FX depreciation, in local currency terms Ooredoo Myanmar recorded 8% growth for the year ended 31 December 2021, the Company reported a 20% increase in EBITDA to QAR 376 million.
Despite the internet shutdowns and additional market challenges, Ooredoo Myanmar maintained customer engagement on the My Ooredoo App, which had over 2.7 million monthly active users in December 2021. Additionally, "Oomanji" on the My Ooredoo App has been played over 70 million times since its launch, contributing significantly towards the My Ooredoo App revenue in Q4.
Ooredoo's FY 2021 financial statements will be available on its website, accessible at: http://www.ooredoo.com.
For further information:
Email: [email protected]
Follow us on Twitter: @OoredooIR