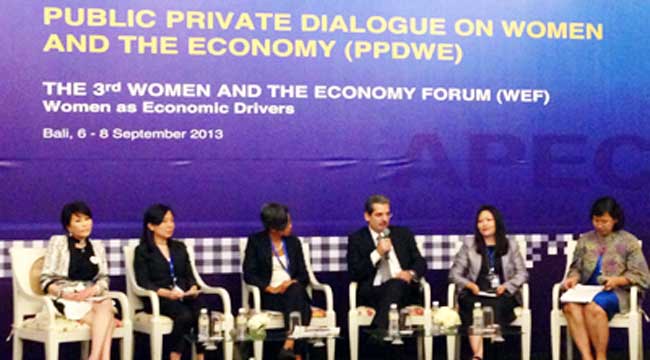 Speaking recently at the APEC Women in the Economy Forum in Bali, Dr Nasser Marafih, Group CEO Ooredoo and Alexander Rusli, President Director and CEO, PT Indosat Tbk Indonesia, each outlined the Company's women-specific initiatives, designed to help women harness technology and innovation to accelerate progress in their communities.
Ooredoo is a firm supporter of APEC's work to support Women in the Economy as this mirrors the Company's commitment to championing women and helping them to realise their potential in society. Specifically, Ooredoo believes that women should have equal opportunities to access mobile technology in order to be able to best advance their lives and those who depend on them.
In recent years, Ooredoo has worked with the GSMA and the Cherie Blaire Foundation to launch women-specific initiatives that work to empower women through enhanced connectivity, bringing greater access to information and business support. These initiatives have helped drive entrepreneurialism while bringing more women online to access vital information and services.
In Indonesia, women comprise nearly two-thirds of the country's entrepreneurs. Ooredoo company's Indosat has established the INSPÈRA or Inspirasi Perempuan Indonesia, an initiative which aims to encourage women to increase their access to information and business services through the use of mobile technology. One of these, Usaha Wanita, has received global acclaim for the information services it provides for Indonesian women entrepreneurs through specially designed mobile web app on topics such as marketing for small businesses to banking and access to credit.
Dr Nasser commented: "Ooredoo is committed to enriching people's lives and stimulating human growth and we have welcomed the opportunity to share some of our unique gender-specific activities on the APEC platform. In recent years we have introduced a number of innovative initiatives across our footprint specifically designed to enable women to access and use ICT in a way that works for them. These include the international award winning Usaha Wanita service developed by Indosat in partnership with the Cherie Blair Foundation, Nokia Life and the ExxonMobil Foundation, which gives female entrepreneurs greater access to valuable business information. Across our markets, we are leveraging mobile technology to empower women and our initiatives have been commercially successful while effectively meeting the needs of women."
Speaking on the importance of ICT tools in strengthening opportunities available to women entrepreneurs, Alexander Rusli commented: "Through initiatives such as the Mentari Aura and Info Wanita, Indosat is dedicated to supporting Indonesia's women entrepreneurs offering greater access to information and telecommunication facilities that will help them expand their business networks and become powerful drivers of the country's economic growth. Already our support for women stretches across 47 communities in Indonesia and we are currently rolling out the next stage of the INSPERA initiative which will encourage entrepreneurial spirit through inter-connectivity and the exchange of ideas at a country-wide and international level."
In conjunction with the LTO-PA (Ministry of women's empowerment and child Protection) Indosat this year hosted the Indonesia Womenpreneur Competition Award (IWC), a national competition to recognise young, creative and energetic female entrepreneurs driven by a passion to improve people's lives as well as their surrounding environment. The 10 finalists attended the APEC Women and The Economy Forum conference last week and learned more about the importance of ICT and online media in helping them to promote their products while creating virtual networks and building communities both online and at home.
The APEC Women and The Economy Forum provides a platform for governmental and private party discussions around how member parties can help drive the greater inclusion of women in the economy and work to counter the adverse impact that gender discrimination continues to have on domestic and regional economies. The first meeting focused on Women was held in 1998 and the current pledge to focus on increasing women's access to education, training, financing, technology and infrastructure in order to maximise economic participation was established in 2009.
About Ooredoo
Ooredoo is a leading international communications company delivering mobile, fixed, broadband internet and corporate managed services tailored to the needs of consumers and businesses across markets in the Middle East, North Africa and South-East Asia. As a community-focused company, Ooredoo is guided by its vision of enriching people's lives and its belief that it can stimulate human growth by leveraging communications to help people achieve their full potential. Ooredoo has a presence in markets such as Qatar, Kuwait, Oman, Algeria, Tunisia, Iraq, Palestine, the Maldives and Indonesia. The company reported revenues of $9.3 billion U.S. dollars in 2012 and had a consolidated global customer base of more than 92.9 million people as of 31 December 2012. Ooredoo's shares are listed on the Qatar Exchange and the Abu Dhabi Securities Exchange.
About Indosat:
Indosat is a leading telecommunication and information operator in Indonesia that provides cellular, MIDI (multimedia, data communication and internet) and fixed services. In the first half of 2013, the company served 56.5 million cellular users through variety of brands such as IM3, Mentari and Matrix. Indosat provides international direct dialing through access code 001, 008 and Flatcall 01016. The company offers corporate solutions that supported by an integrated telecommunication networks throughout Indonesia. Indosat also operates Satellite Palapa C2 and Palapa D. Indosat is a subsidiary of Ooredoo. Indosat's share are listed on the Indonesia Stock Exchange (IDX:ISAT).