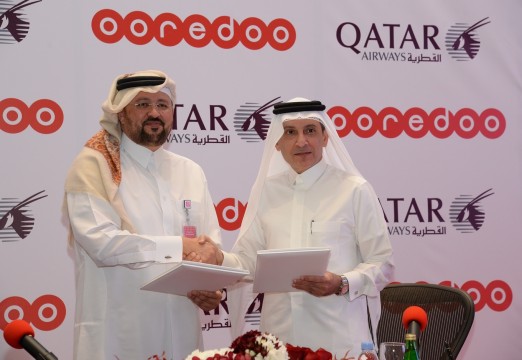 First-of-its-Kind Agreement Brings Free Wi-Fi Connection for All Passengers Onboard Wi-Fi Enabled Flights
Doha, Qatar
Ooredoo and Qatar Airways today signed a Memorandum of Understanding (MoU) that will see Ooredoo sponsor Qatar Airways' Onboard Wi-Fi service to enhance the customer experience on Qatar Airways flights and provide unmatched connectivity in the air.
The first-of-its-kind MoU was signed by Waleed Al Sayed, CEO, Ooredoo Qatar and Qatar Airways Group Chief Executive, His Excellency Mr.  Akbar Al Baker.
With the Onboard Wi-Fi service, customers can use portable electronic devices (PEDs) to access emails, browse the Internet and also send SMS/MMS via their smartphones once the service is enabled on board.
The three-year agreement positions Ooredoo as the Exclusive Onboard Wi-Fi Sponsor for all Qatar Airways flights that are equipped with on board Wi-Fi.
H.E. Mr. Al Baker, said: "Qatar Airways continues to strive to offer the very best on-board experience for our customers, and our cutting-edge on board Wi-Fi service provides an incredible connection. We are proud to work with Ooredoo, a leading Qatari company, to bring this service to the world."
Waleed Al Sayed, CEO, Ooredoo Qatar, said: "Ooredoo strives to ensure that customers can always enjoy the best network wherever they are in the world, and our partnership with Qatar Airways takes our commitment to connectivity to the skies. Qatar is leading the way in the incredible facilities being offered to visitors and residents, and we are pleased to extend our work with Qatar Airways through this important agreement."
With Ooredoo's sponsorship, all passengers can enjoy the first fifteen minutes of Wi-Fi for free, enabling them to contact loved ones on the ground. After the free period, customers will be able to continue using the Wi-Fi service by entering their credit card details when prompted.
Passengers on the Qatar Airways flights will be made aware that the network is available with the Ooredoo logo on the log-in screen, crew announcements, in-seat pocket information and on-flight screen adverts.
The move to enable Ooredoo's network on board aircraft will enable Qatar Airways to give travellers the latest generation of connections quickly and cost-effectively, in a flexible and scalable manner.
This agreement is the latest in a line of cutting-edge initiatives between Qatar Airways and Ooredoo, which include an initiative by the national airline to move both its primary and backup data to Ooredoo's cloud-hosting platform, announced earlier this year.
On-board Wi-Fi is part of Qatar Airways' state-of-the-art communications system available on all A380, A350, B787, A319, and select A320 and A330.
-END-
About Ooredoo
Ooredoo is Qatar's leading communications company, delivering mobile, fixed, broadband Internet and corporate managed services tailored to the needs of consumers and businesses. As a community-focused company, Ooredoo is guided by its vision of enriching people's lives and its belief that it can stimulate human growth by leveraging communications to help people achieve their full potential.
About Qatar Airways:
Qatar Airways, the national carrier of the State of Qatar, is one of the fastest growing airlines operating one of the youngest fleets in the world. Now in its 18th year of operations, Qatar Airways has a modern fleet of 173 aircraft flying to 153 key business and leisure destinations across six continents. Qatar Airways won Airline of the Year, Best Business Class Airline Seat and Best Airline in the Middle East at the 2015 Skytrax Awards. This is the third time the airline won the accolade of Airline of the Year.
Qatar Airways is a member of the oneworld global alliance. The award-winning alliance was named the World's Best Airline Alliance 2015 by Skytrax for the third year running. Qatar Airways was the first Gulf carrier to join global airline alliance, oneworld, enabling its passengers to benefit from more than 1,000 airports in more than 150 countries, with 14,250 daily departures.
This year, Qatar Airways launched Oryx One, an enhanced interface for its inflight entertainment system, increasing the number of movies and TV shows on board from 950 to up to 2,000. Passengers flying on Qatar Airways flights served by its B787, A350, A380, A319 as well as select A320 and A330 aircraft can also stay in touch with their friends and family around the world by using the five-star airline's on-board Wifi and GSM service.
Qatar Airways Cargo, the world's third largest cargo carrier, serves more than 45 exclusive freighter destinations worldwide via its Doha hub and also delivers freight to more than 150 key business and leisure destinations globally on 173 aircraft. The Qatar Airways Cargo fleet now includes six Airbus 330, eight Boeing 777 freighters and one Boeing 747 freighter.
For more information, visit our homepage www.qatarairways.com or our sites on Facebook, Twitter, Google+, Instagram, and YouTube.
For Qatar Airways corporate images, please click here: http://www.qatarairways.com/corporateimages